Published: April 09, 2018
WATSONVILLE, CA | Applied Motion Products introduces the closed-loop TBSM11 Linear Actuator, said to offer greater acceleration rates, shorter move times, and higher throughput than conventional step motor-based linear actuators. Creating peak torques to 50% higher than holding torque, actuators accelerate and decelerate faster, making them ideal for high throughput processes that require linear actuators to start and stop quickly. The TBSM11 only draws current when needed to run cooler and more quietly than conventional step motor-based linear actuators, company says.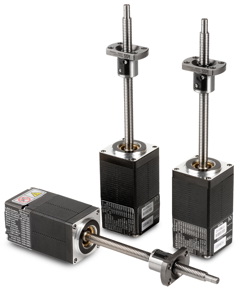 Based on the company's StepSERVO Integrated Motor technology, the actuator features a ball screw shaft and nut assembly instead of a motor shaft, which reportedly eliminates the need for a coupling and creates a space-saving, compact design. High-efficiency, low-backlash ball screws and lead screws are available in a range of leads and stroke lengths to meet custom requirements. Custom end machining meets individual application requirements.
Offering the performance advantages of fully closed loop positioning and control in a small footprint, the TBSM11 Linear Actuator provides more than 20 lb of thrust force with position resolution of 0.005 mm per full step. With fully programmable, on-board motion control using company's Q Programming language, the new actuators operate as stand-alone axes with motion profiles stored in non-volatile memory. Q Programming incorporates commands for various kinds of motion, I/O control and sequencing, and math functions that enable users to create all kinds of motion control sequences and algorithms. RS-485 ports enable network connections for multiple axes
Units are said to be ideal for use in a variety of automation tasks in electronics assembly, medical packaging, and test and measurement as well as in applications requiring accurate positioning such as feeding, pick-and-place, and axis setup.
This email address is being protected from spambots. You need JavaScript enabled to view it.