Published: February 14, 2018
WATSONVILLE, CA | Applied Motion Products introduces a range of UL-listed and CSA-certified stepper motors and servo motors for use in applications requiring certifications in North America and Canada. Units are recognized to Standard UL-1004-6 for Servo and Stepper Motors, UL 1004-1 Standard for Rotating Electrical Machines, and Canadian CSA Standard C22.2 No. 100-14 for Motors and Generators. Company says customers are now assured that the company's stepper and servo motors meet high quality standards for electrical safety associated with UL and CSA certifications.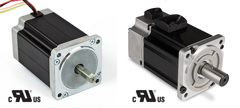 UL-recognized stepper motors include both single- and double-shaft versions in NEMA frame sizes 17 through 34, with torque values from 31–1,841 oz-in. These motors are designed to work optimally with company's stepper drives, reportedly ensuring smooth motion and high performance in every application.
Servo motors include J Series models in frame sizes 40 mm through 80 mm. Units feature a 10,000 count incremental commutating encoder and an IP65 rating for the motor body. The servo motors are designed to work with company's servo drives.
The motors are suitable for a wide range of motion control and automation applications in both the commercial and industrial markets.
This email address is being protected from spambots. You need JavaScript enabled to view it.