Published: January 17, 2018
CALEDON EAST, ON, CANADA | FlexPak Leak Detector reports the Package Leak Detector now features an ambidextrous lid. The Leak Detector and Seal Tester has eliminated the lid stay normally used and replaced it with a stainless steel gas spring. By doing so, company says, the lid can easily be closed with only one hand. "This feature is now standard on all models of FlexPak," says company president Roxanne Waslowski.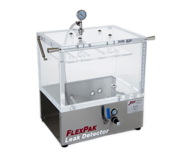 he unit is used by many industries such as in the manufacture of packaging materials and end-user packagers of dairy, meat, seafood, confectionery, snacks, pet food, cereals, baked goods, coffee, medical, pharma, and any non-food packaging items where package seal, seam, or closure integrity is critical.
This email address is being protected from spambots. You need JavaScript enabled to view it.