Published: June 29, 2017
HOUSTON, TX | Dynatrol says Viscosity Systems, designed for precise measurement with fast and continuous readings, are used for a wide variety of process industry applications.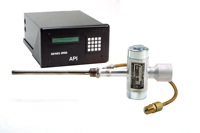 Company says the viscometer utilizes a unique vibratory principle to provide continuous measurement in vessel or in-line process conditions, eliminating the need for sampling and provides exceptional accuracy.
The Viscosity Probe is available in stainless steel and other corrosion-resistant materials. It operates in ranges up to 100,000 centipoise and has a standard pressure rating of 1,000 PSI and a standard temperature rating of 300 deg F. (Higher pressure and temperature ratings are available.) With no moving parts it is said to be virtually wear-free, ensuring a long operating life.
The Digital Converter Series 3000 (Model STD) was designed for use with all of company's viscosity systems. Using microcontroller technology, the digital converter accepts information from the Viscosity Probe and calculates the viscosity of the liquid under test. The Series 3000 Converter mathematically computes and displays the viscosity in standard units.
This email address is being protected from spambots. You need JavaScript enabled to view it.