Published: June 08, 2017
CUMMING, GA | FocalSpec, a supplier of high-resolution optical 3D surface measurement solutions, reports the introduction of the MicroProfiler MP 9000, an on-line surface roughness measurement system for web applications.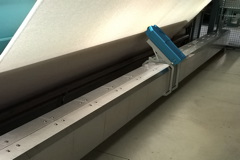 The MP 9000 is based on company's patented Line Confocal Imaging (LCI) technology that enables a continuous, non-contact 3D surface imaging of fast-moving transparent, non-transparent, matte, and glossy web structures, such as PVB films, polymer sheets, laminates, coatings. and paper webs.
The system's LCI sensor, mounted on a traversing frame, automatically scans for the web's microtopography across its full width. The system freezes and analyzes the actual 3D surface profile at a high rate and calculates the standard roughness parameters including Ra, Rz, and RSm. Roughness results are displayed in real-time and operators are alerted for unusual process changes, enabling instant corrective actions. If desired, the measurement data can be used in closed-loop machine control. All results from the entire length of each produced roll are stored in the system's database for quality certification and production reporting purposes.
"The MP 9000 web scanner is a logical next step in applying [our company's] unique LCI technology after using it in our off-line lab and online tube and cable roughness measurement systems," says Juha Saily, sales manager for FocalSpec. "In addition to surface roughness, we can also measure webs' other 3D characteristics such as surface texture, thickness, edge height, wrinkles. and folds."
This email address is being protected from spambots. You need JavaScript enabled to view it.