Published: December 20, 2016
LEBANON BOROUGH, NJ | PROTON Products International, global supplier of noncontact laser Doppler speed and length measurement technology, reports it has made interfacing its InteliSENS noncontact speed and length sensor as straightforward as possible across a wide range of industrial instrumentation platforms.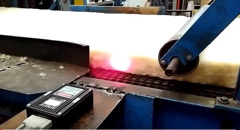 The InteliSENS speed and length sensors come standard with intelligent, easy-to-integrate capabilities that feature a broad range industry-standard or de-facto industry interfaces. According to Grant Latimer, PROTON's managing director, "Our customers have many different instrument and automation platforms, including analog, Programmable Logic Controllers [PLC's], Distributed Control Systems [DCS], to name but a few. They are looking for a supplier who can offer direct, flexible, and easy interfacing options to their processes without the need for further equipment and additional costs. [We] have recognized this and have embedded this capability into the InteliSENS sensor to literally give it 'plug and play' capability."
The standard InteliSENS interfacing options include Ethernet TCP/IP (Modbus), RS-232, and Proton CANBus communications. Optional interfaces include PROFIBUS, PROFINET, DeviceNet, Industrial Ethernet/IP, WiFi and Bluetooth which are available as a substitute for the Ethernet communications interface. Both the Bluetooth and WiFi interfaces provide wireless configuration and sensor monitoring to smart phones, tablet PCs, and laptop PCs. The DeviceNet interface offers connection to PLCs and other process control instrumentation via an industry standard DeviceNet network. Alternatively, there's the optional PROFIBUS or PROFINET and Ethernet I/P interfaces for connection to PLC's and industry-standard networks.
Company says the InteliSENS SL mini and SLR mini sensors are suitable for numerous applications involving the measurement and control of speed, differential speeds (or draws) and length to help deliver a multitude of benefits across the industries they serve.
This email address is being protected from spambots. You need JavaScript enabled to view it.