Published: September 26, 2016
BIELEFELD, GERMANY | BST recently unveiled the Powerscope 5000 web viewing system, the next generation of its narrow web visual inspection system. This basic web viewing system is said to be very compact so it can easily fit on narrow web presses with minimal effort and to have improved image quality due to a new high-resolution, 16-Mb digital camera. The result reportedly is brilliant, detailed images of the moving web essential for viewing and inspection of register marks, traps, die-cuts, reverse print, tiny type, and many other print attributes.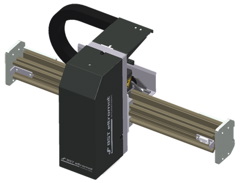 The hardware package now includes a touch control commander that can be mounted on the camera, the machine frame, or elsewhere. This control features a "gesture" control area and "Fast Access" buttons, used to quickly execute the most commonly used tasks.
Other improvements include a high-performance LED strobe as standard, said to provide even illumination across the entire field of view even on reflective substrates; a 24-volt power supply, which adds another element of simplification to the installation; and 90-deg electronic image rotation. The unit also offers programmable positions as a standard feature.
Split-screen function memorizes the position as well as the zoom and iris settings. Auto Constant Scan allows a user to inspect portions or all of the print repeat area at the touch of a single icon.
An optional 21-in. touch screen is available, which uses "gesture" controls for the operator controls and eliminates the use of any mouse or pointing device.
The Powerscope 5000 is available with either manual or motorized camera movement. Both allow the touch commander and/or the touch screen to be mounted in a variety of ways, allowing the inspection system to be easly and effectively mounted on a wide variety of machines, company says.
This email address is being protected from spambots. You need JavaScript enabled to view it.