Published: July 20, 2016
HIGHWORTH, SWINDON, UK | Troika Systems, supplier of quality control analysis management systems for the print industry, received an innovation award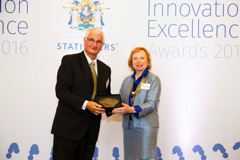 at the Stationers' Company Innovation Excellence Awards 2016. Troika, which designs and develops a range of state-of-the-art quality control 3D measurement systems for the industry, was recognized for its AniCAM 3D scanning microscope at an event held at Stationers' Hall, London.
Phil Hall, managing director at Troika, says, "It is always a great pleasure for the company to be recognized by the judges for providing top quality solutions to the print market. We are immensely proud to have collected several awards this year. These awards recognize the importance of our technology in today's highly competitive print industry."
The AniCAM and its associated QC applications measures anilox rolls, gravure cylinders, and flexographic plates, with a solution said to ensure the rolls, cylinders, or plates are in optimum condition to minimize waste and improve production efficiencies.
This email address is being protected from spambots. You need JavaScript enabled to view it.