Published: July 07, 2016
SUSSEX, WI | QuadTech announces a new Inspection System for packaging and converting printers, built on company's ICON integrated platform.
"This is far from an incremental upgrade to an existing technology," says Stephan Doppelhammer, QuadTech market manager for packaging. "We gathered extensive user feedback to reimagine—from the ground up—a better process for the detection and disposition of defects. The result is a very powerful, very intuitive tool. We think printers will immediately understand the efficiencies to be gained and will be excited about the value they can add to their operations."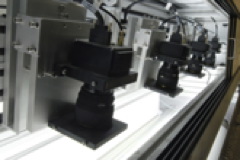 The new system utilizes a 64-bit software architecture, and a wider array of advanced algorithms is used to analyze the printed substrate, detecting a variety of defect types such as ink spots, register/color variation, content issues, and streaks. Company says its algorithms automatically adapt the system to changing press conditions, ensuring optimal inspection at all critical phases of press operation including startups/restarts, splices, and all normal running speeds.
A new high-definition wide screen user interface supports larger image sizes for defect analysis and easy access to inspection features. The modern, intuitive user interface provides press operators with capabilities such as masks and multiple defect sensitivities, while ease of use is said to be improved. A live, color-coded roll map allows operators to identify different types of defects quickly and make fast decisions about defect severity and remedy.
According to the company, the new "future-proof" architecture leverages leading software and hardware development platforms, and the expandable hardware architecture has the ability to scale up to eight cameras per system, providing superior image quality on larger fields of view. Each system can be configured to meet a printer's specific needs. The Inspection System also offers optimal dual-side inspection with customizable resolution, and specific features such as front-to-back register monitoring.
Proprietary, temperature-controlled LED lighting allows printers to view the printed substrate at the lowest level of granularity to identify defects and prevent costly waste. Highly stable light output reportedly results in clean, high quality inspection images for superior inspection performance. Custom lighting designs are available for a variety of specific applications, including standard, reflective, trans-missive, and UV.
At the beginning of every print run, a "Golden Template" reference image is acquired. Every subsequent printed copy is compared to the Golden Template, resulting in a fixed, repeatable quality standard. To track defects for removal later in the workflow, the system stores all inspection and production data in a roll map database. Defects can be tagged physically or electronically, then communicated to the converting controller to automatically locate defective material for removal.
This email address is being protected from spambots. You need JavaScript enabled to view it.