Published: May 24, 2016
CAMARILLO, CA | ADVANCED Motion Controls announces AxCent, a new servo drive targeted for centralized motion control systems. The product platform encompasses company's non-digital architecture servo drives, including: plug-in, panel mount, and vehicle mount servo drives.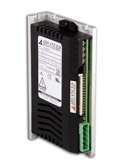 Company says AxCent consolidates company's previous panel-mount offering into a more flexible and feature-rich solution. Benefits are said to include the following:
Application flexibility
More modes of operation in each unit
Built-in brushed and brushless compatibility
Expanded DIP-Switch tuning options on selected parts
Solderless solution to achieve optimal performance
Available for both current loop and velocity loop tuning
Quick response and high bandwidth
Encoder Velocity, Duty Cycle Feedback, and Current Modes on the same model
Custom modifications are readily available to supplement the standard offering
AxCent for the Micro-sized Z-Drives family now has Velocity Mode capability. With the addition of three models with built-in interface cards and three more with plug-in style mounting, these full-featured drives operate with brushless and brushed servo motors and are available immediately.
Weighing as little as 9 grams and capable of outputting 10A peak and 5A continuous without a heatsink, the micro-sized Z-Drives are company's smallest off-the-shelf servo drives. These plug-in drives are designed for embedded applications in a wide range of industries.
This email address is being protected from spambots. You need JavaScript enabled to view it.