Published: May 19, 2015
DANVERS, MA | Techkon USA says its Graphic Vision Spectro system (GVS) meets exacting demands for both color and print quality. System integrates a high-resolution camera with a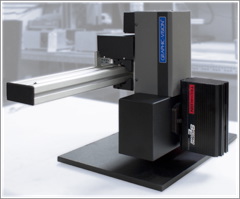 precise spectrophotometer in a single unit. On-line monitoring of a flexographic press enables print defect monitoring and brand color control with no compromise, company says.
Print inspection and defect monitoring based on imaging allows operator to check for registration, streaks, voids, and fills. A job can be compared with reference image in a split screen view.
Inline Spectro allows precise in-image spot measurement for control of critical brand colors. Camera enables smart-positioning of spectral sensor to directly measure multiple spots using programmable traversing arm.
Chroma QA software included with the system displays quality trends for process and spot colors. Score cards for each print job simplify quality control. Recommended ink density adjustments are shown. Multiple print locations can be connected through this enterprise system to monitor jobs remotely. The software also features ink management capability to save cost and reduce waste.
This email address is being protected from spambots. You need JavaScript enabled to view it.