Published: November 06, 2014
MILWAUKEE, WI | Rockwell Automation offers the Allen-Bradley PowerFlex 7000 medium-voltage drive with a new safe torque off option said to help industrial manufacturers and equipment builders simplify their functional safety design and meet the demands of international safety standards.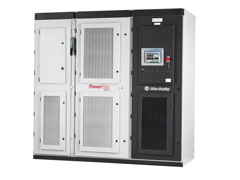 Company says safe torque off technology allows users to remove power reliably from the motor without removing power to the drive, enabling a faster restart of the system after a safe state is reached.
"Medium-voltage drives often run the most critical assets in an operation," says Mark Banas, product manager, Rockwell Automation. "Starting and stopping a drive repeatedly using input disconnect devices can create significant downtime and cause wear on these critical assets. Medium-voltage-drive users can now help keep operations running and provide a safer work environment with certified safe torque off technology."
When a safe torque off command is issued in the drive, from a user or a demand on the functional safety system, the PowerFlex 7000 drive immediately removes rotational power to the motor, ceasing the process. The drive stays powered and reliably monitors this "safe" state, ensuring no unintended operation of the motor is possible.
Company engineers designed the safe torque off option directly into the drive control, greatly simplifying setup and system design for functional safety. It works side by side with the drive's control functions and does not require additional electromechanical components. This helps eliminate wiring needs and lower users' hardware inventory and installation costs. Safety triggers—such as push buttons or light curtains—wire directly to the drive, removing the need for additional hardware.
The PowerFlex 7000 drive now also offers the option of enhanced torque control capabilities with Allen-Bradley TorqProve technology.
This email address is being protected from spambots. You need JavaScript enabled to view it.