Published: October 29, 2014
TORRINGTON, CT | Dymax Corporation offers a new low-level-sensing reservoir system said to prevent empty material reservoirs from introducing air into dispensing lines, thereby eliminating contamination during the dispensing process.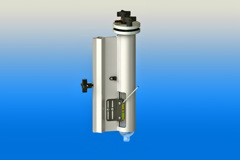 The system utilizes an adjustable sensor for use with pressurized reservoirs, and features an SB-100 controller that activates a warning when the material in the reservoir reaches a specified low level. The controller also features an external PLC connection that allows for a total line shutdown, reportedly saving time and money by stopping the dispense system when material reservoirs are empty.
Company says the easy-to-use sensor configuration is adjustable, allowing operators to set specific levels of material to signal warning and automatic shut-off options. The low-level functions include remote visual beacon, audio buzzer, and auto shutdown. There are no wetted components–the sensor does not contact fluids, so it's compatible with a wide range of materials.
This email address is being protected from spambots. You need JavaScript enabled to view it.