Published: September 18, 2014
HOD-HASHARON, ISRAEL | AVT (Advanced Vision Technology Ltd), global supplier of print automatic inspection, process control, quality assurance, and color control for packaging, labels folding cartons, and more, has introduced the Turbo Series, an enhanced set of inspection and quality control solutions specifically designed for packaging applications.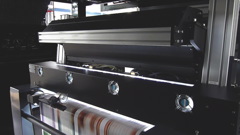 The series includes Apollo Turbo, Argus Turbo, and Argus E Turbo, reportedly provides valuable features including high-resolution inspection, unsurpassed workflow support, and job verification tailored to the needs of packaging production lines.
Company says the series is named for its fast and accurate vision system, reporting that its vision technology affords the highest possible resolution at previously unattainable production speeds for best-in-class inspection quality with no quantity compromise or lost data. Camera, supported by a new dedicated LED illumination technology, is said to offer an unprecedented combination of high-resolution, high-volume quality control.
JobRef, which enables verification at the setup stage by automatically comparing the current job to the original, customer-approved digital PDF file, has been modified to specifically address the needs of the packaging sector. This up-front comparison reportedly results not only in improved accuracy–it reduces the chance of reprints due to mistake to almost zero–but also in shorter set-up times, especially in cases of previously run jobs.
This email address is being protected from spambots. You need JavaScript enabled to view it.