Published: September 08, 2014
SADDLE BROOK, NJ | Unilux has introduced the LED-12, the first handheld strobe light in its H2LED Series of second-generation LED inspection lights. The lights are designed for additional applications, including maintenance, speed measurement, machine vision, camera inspection, motion timing, and motion analysis.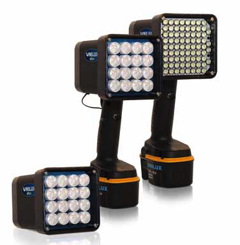 The LED-12 has twice the light output of its predecessor and is available in standard and UV models. The UV strobe light is available as an optional fixed-mount unit. Company says the second generation adds an internal phase control for greater flexibility in handling production and maintenance operations. Its narrow-beam spot illumination covers a 45-cm diameter when 90 cm from the target.
"LED technology continues to get better and better," says Unilux president Mike Simonis. "Our second-generation handheld inspection lights raise brightness to the levels of our traditional strobes and deliver superior UV inspection capabilities that are so critical to the security needs of label and package printers. With much more extensive controls for more inspection and motion analysis capabilities, we can now provide an effective tool for product quality improvements and machine maintenance."
The unit features an adjustable flash rate from 300–50,000 flashes/min, internal and external phase control, flexible triggering sources and white light approaching the visible spectrum of sunlight. Reportedly its environmentally friendly diodes are ozone-free. Simonis said the new Unilux lights should help users reduce waste, unscheduled downtime, and maintenance costs while raising yield.
This email address is being protected from spambots. You need JavaScript enabled to view it.