Published: September 04, 2014
ROCHESTER, NH | Dover Flexo Electronics (DFE) will feature new tension measurement, display, and control technology at Labelexpo Americas 2014, September 9–11, at the Donald E. Stephens Convention Center in Rosemont, IL. Included will be the EasyWeb Torque Controller, the Fire-Guard2 Intrinsically-Safe Tension Amplifier, and the new communications features on the SteadyWeb5 Tension Controller.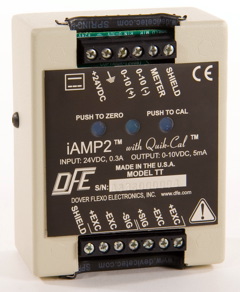 Company reports it has been integrating the Quik-Cal push-button zero and calibration feature into all of its new electronics products since 2007. Reportedly, this means no more pot-tweaking for the technicians tasked with setting up tension measurement and control devices.
With Quik-Cal the indication and control electronics use front-panel push buttons instead of potentiometers for zero and calibration settings. Company says no tension display is needed, no screwdriver is needed, and no second person is needed for setup or calibration. Each button is pressed once during the calibration procedure for one second and the settings are stored automatically.
Another reported benefit of Quik-Cal technology is inherent stability. The ZERO and CALIBRATION settings are stored digitally, so there is no drift over time and temperature variations as there can be with potentiometers.
Most of company's tension indication and control products use Quik-Cal, including the TrueTension TI17C and TI18C amplifiers.
This email address is being protected from spambots. You need JavaScript enabled to view it.