Published: July 25, 2014
PUCHHEIM/MUNICH, GERMANY | SCANLAB reports the introdution of an an integrated hybrid polygon laser scan system solution. This high-dynamics polygon laser scan system is said to be well suited for line-by-line processing of surfaces via high-repetition USP (ultra-short-pulse) lasers. The hybrid system also reportedly has demonstrated a cut in material processing times.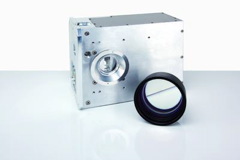 Company says the hybrid polygon scanner system combines the dynamic superiority of polygon scanners with the high precision of galvanometers. "Two galvanometer scan axes now correct typical deviations and imperfections in polygon wheel symmetry to achieve the flexibility necessary for pixel-accurate processing," says SCANLAB CEO Georg Hofner. "A large working distance, the straight-forward integration of the mechanical feed axis, and incredibly short process times predestine this system for industrial applications."
According to the company, the solar sector is under pressure to continuously lower costs for renewable power from photovoltaic systems. One possible response is the use of rear-contact cells to raise the efficiency of solar modules. SCANLAB, Innolas Systems, and the Institute for Solar Energy Research Hameln (ISFH) jointly tested laser processing of crystalline Si solar cells, where the hybrid polygon scanner formed electrical busbars on the backs of cells—arranged as alternating strips of emitter and base regions. Reportedly, the new scan system drastically reduced process times with any pattern and at highest resolution.
This new technology is also suited for mobile devices, the electronics industry, and the processing of composites.
This email address is being protected from spambots. You need JavaScript enabled to view it.