Published: January 21, 2014
CAMARILLO, CA | ADVANCED Motion Controls is offering the AZB10A4 and AZBDC10A4 ultra-small analog plug-in brushless servo drives. Pronounced "micro-Z," plug-in drives are designed for embedded applications in a wide range of industries.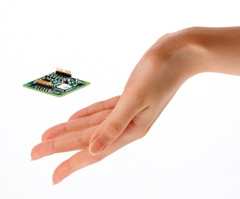 The drives are designed to drive brushless and brushed DC motors at a high switching frequency. To increase system reliability and to reduce cabling costs, drives are made for direct integration into user's PCB.
With a high power-to-weight ratio, the µZ's are fully protected against over-voltage, under-voltage, over-current, overheating, and short-circuits. Depending on the model, drives interface with digital controllers that have analog ±10V or PWM/Direction commands. These servo drives require only a single unregulated isolated DC power supply, company says, and are fully RoHS (Reduction of Hazardous Substances) compliant.