Published: October 25, 2012
PLYMOUTH, MN | Zero-Max has added a new single- and double-disc coupling size to its ServoClass coupling line. Models SD025R and SC025R handle bore diameters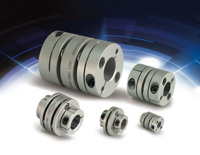 of 5–14 mm and torque to 4 Nm. Said to provide high torsional stiffness, these new model couplings are designed to handle high-speed reversing loads and precise positioning at speeds to 10,000 rpm.
Manufactured of RoHS compliant materials, couplings are lightweight and are designed with 304 stainless steel disc packs and aluminum clamp-style hubs and center members. To ensure precise alignment of the assembled components, ISO 4762 CL12.9 corrosion-resistant socket head cap screws are utilized with a carefully controlled assembly process.
Twelve sizes of standard off-the-shelf ServoClass couplings are now available in both inch and metric bores. They are said to be well suited for virtually any product that uses ball screws and servomotors.
This email address is being protected from spambots. You need JavaScript enabled to view it.