Published: April 23, 2012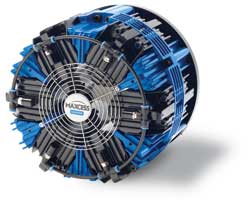 OKLAHOMA CITY, OK | Maxcess announces the MAGPOWR HEB250, a high-efficiency pneumatic brake with a 250-mm rotor and features for safety and efficiency integrated into the framework.
The HEB250 empowers customers to significantly reduce costs by giving them a drop-in replacement brake with several advantages. Most significant is the higher torque capacity and reduced maintenance provided by a larger, thicker brake pad design. The HEB runs at cooler temperatures to ensure longer pad life, and is easily integrated with MAGPOWR tension controls and components.
"This technology is simply a way to better serve our customers. We designed it to be extremely safe and easy to use," said Chris Harper, global product manager for MAGPOWR Tension Control.