Upcoming Exhibits
Converter's Expo – Greenbay, WI - August 9-10, 2021 – Booth #75
Techtextil Show – Raleigh, NC - August 23-25, 2021 – Booth #1615
Pack Expo – Las Vegas, NV - September 27-29, 2021 – Booth #SU7478
Davis-Standard, LLC is a global leader in the design, development and distribution of extrusion and converting technology. Davis-Standard systems encompass over 11 product lines to support manufacturing applications and customers within every major industry. This includes the agriculture, automotive, construction, healthcare, energy, electronics, food and beverage packaging, and retail industries, among others. With more than 1,400 employees worldwide, Davis-Standard is committed to engineering systems that are reliable, environmentally friendly, and offer a high return on investment.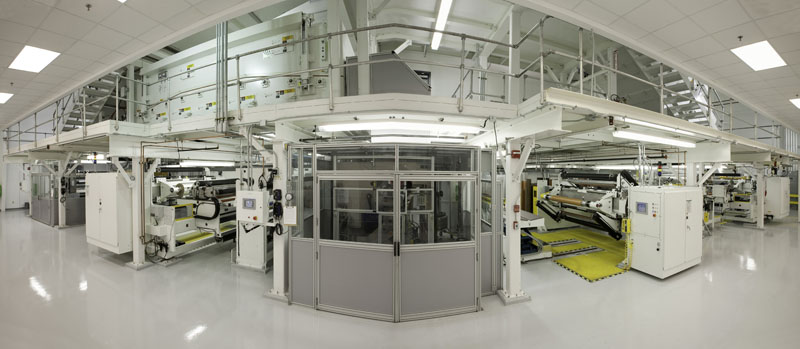 Superior technology for optically clear window film from Davis-Standard.
Davis-Standard to Promote Range of Technology at Converter's Expo
(PAWCATUCK, CONN.) – Davis-Standard will promote a broad portfolio of technology solutions August 24-25, 2020, at Lambeau Field Atrium in Green Bay, Wisc., in booth 93. Davis-Standard will highlight standard and tailored liquid coating lines for window and paint protection, specialty products, PSA and silicone release liners, as well as their inline and offline unwind and winding options for diverse applications. The complementary portfolio of Deacro Industries, acquired by Davis-Standard last year, will also be promoted. Deacro will be promoting their slitting, rewinding and web handling capabilities for a range of flexible packaging applications in booth 17.
Davis-Standard's liquid coating lines are designed for uniform coat weights with technology for quick change and reduced waste. The cartridge coater enables quick web width change-over, a fast-sleeve change system without breaking the web, feature auto trim start and increased productivity. Unwinds are built with a reliable high-speed splice for reduced waste, stub roll capability and to minimize tail length. Winders feature stationary knife transfer for high-speed transfers and reduced fold-over waste. Control systems reduce "dial-in" time and include process monitoring and troubleshooting to assist with performance. Davis-Standard is also able to retrofit existing lines to improve performance.
Davis-Standard collaborates with customers to offer standard and custom liquid coating options to serve global film and flexible packaging, construction, automotive and medical converting markets. The company also offers comprehensive product development in their state-of-the-art technology solutions centers as well as 24/7 after-sales support and service.
For more information about liquid coating equipment options prior to the show, visit https://davis-standard.com/converting_system/liquid-coating/. For Deacro Industries, visit https://www.deacro.com/.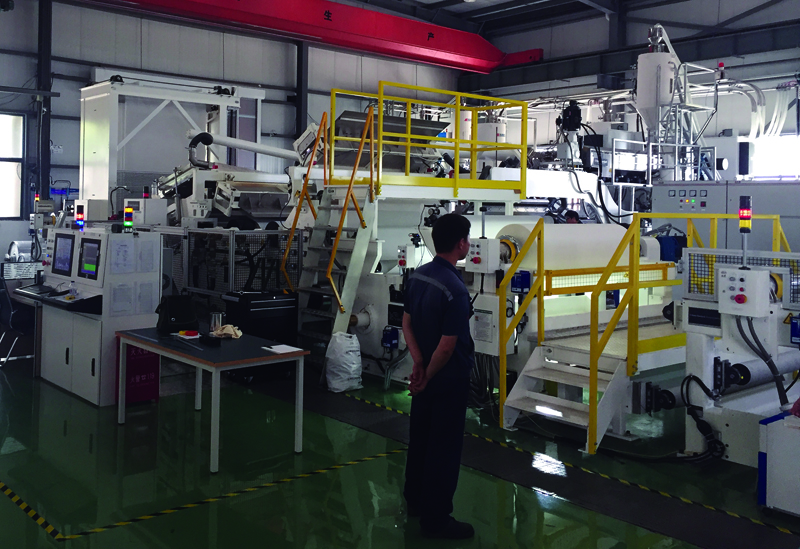 Davis-Standard's high-output fabric coating line
Davis-Standard to Market Fabric Coating Innovation at Techtextil North America
(PAWCATUCK, CONN.) – Davis-Standard, LLC will promote the company's extensive fabric coating porfolio at booth #1615 during Techtextil North America on August 23 – 25, 2021 in Raleigh, N.C. Davis-Standard offers a range of performance technology for high-volume fabric coating applications as well as high-value engineered textile composite applications. This includes extruders, controls, feedscrews, unwinds and winders, laminators, extrusion coaters and web handling equipment.
For high volume applications, processors can extrude LDPE, PP, HPDE and LLDPE blends in a variety of structures, with speeds up to 1500 feet per minute (450 mpm), thickness range of 15 to 400 microns and typical web widths up to 160 inches (4000 mm). Applications include lumber wrap, underlayment, house wrap, membranes, and industrial packaging. Davis-Standard will highlight its high-output CHP extruder for flexibility as well as an in-line coater with priming on one or both sides to promote adhesion for manufacturing multiple products on the same line. The CHP accommodates existing carriage or platform structures, and can easily fit into tight spaces for retrofits, coextrusion upgrades, and as a replacement extruder to increase output and line speed.
For high-value engineered textile composite applications, Davis-Standard's in-line coating and laminating machinery supports consistent and reliable adhesion. Applications include chemical-resistant garments, footwear, and protective outerwear as well as multiple products for the food, marine and aviation industries. Davis-Standard's equipment can support speeds up to 330 feet per minute (100 mpm), thickness range of 15 to 2500 microns and typical widths up to 126 inches (3200 mm). Coaters are capable of coating one or both sides of the web for product adaptability. Applying the primer in-line has been advantageous in helping converters avoid a secondary process while also providing in-house quality control and intellectual property protection.
"We look forward to participating in Techtextil North America in August," said Sumeet Kumar, Director of Strategic Marketing for Davis-Standard Converting Systems. "This show represents every vertical aspect of the technical textile industry, so it presents a great opportunity for us to network and gain exposure among decision-makers. Fabric coating is a growing market segment for us and we are well-equipped to support converters with the type of cost-saving efficiency they need to be competitive."
For more information about Davis-Standard's fabric coating capabilities prior to the show, visit www.davis-standard.com/converting_system/extrusion-coating/.
Versatile and Efficient Extrusion Coating
Davis-Standard's extrusion coating and laminating expertise is second to none. With the industry's most versatile equipment platforms, we deliver cost-effective extrusion coating packages to support construction, consumer products and packaging industries. https://davis-standard.com/converting_system/extrusion-coating/
Liquid Coating that Optimizes Efficiency
Davis-Standard's liquid coating systems are used throughout the world for tapes and labels, silicone-coated products and in specialty coating markets. With more than 50 different standard and custom liquid coating products, we provide profitable solutions for the building and construction, automotive and medical industries. https://davis-standard.com/converting_system/liquid-coating/
Winding and Unwinding Technology to Drive Productivity
Efficiency, value, performance – that's the Davis-Standard solution in winding and unwinding. We have the industry's largest selection of continuous winding and unwind systems and slitter rewinders.
https://davis-standard.com/converting_system/winding-unwinding/