Indev-ACT will be demonstrating its latest Terahertz on-line precision coat weight sensor in booth #623 at ICE USA 2019. This direct coat weight measurement eliminates multiple scanners, inter-gauge coat weight calculations, complex calibrations and multi-scanner sensor alignment. Since this is a direct thickness measurement vs. a calculated measurement, it is reportedly highly accurate and less influenced by flutter, color and opacity. The key to coat weight measurement with this sensor is the physical difference between the coating and the substrate and the sensor's ability to differentiate them. Co-extrusion and laminated products such as films, paper, foils and specialty materials such as EVOH can be reliably measured down to 0.6 mls even after the film is built up. In addition, moisture can also be measured for appropriate applications. With a compact single-sided form factor, it can fit into tight locations, resulting in reduced maintenance, high reliability and low cost of ownership.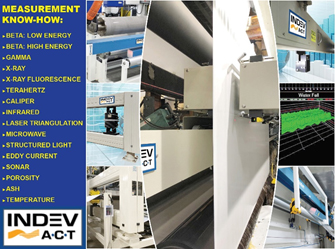 Also in the booth, Indev-ACT are featuring their latest non-contacting ShadowMike optical thickness sensor for clear and colored materials including sheet and foam applications. This non-nuclear, compact sensor offers precise direct thickness measurement irrespective of the product's specific gravity. Both of these new high-precision, high-resolution sensors from Indev-ACT offer a new level of detailed quality inspection at fast scan speeds for tight machine direction and responsive Automatic Profile Controls resulting in a substantial return on investment (ROI).
For more information, visit www.Indev-ACT.com.