Published: March 11, 2013, By Yolanda Simonsis
The Assn. of Intl. Metallizers, Coaters & Laminators (AIMCAL) conferred its Product of the Year Award in honor of Peter Rigney (former publisher of Paper, Film & Foil Converter and competition champion) to Graphic Packaging Intl., Atlanta, GA, for extending susceptor technology into a microwaveable bacon package for Embotits Espina, based in Vic, Spain. This top honor plus ten additional awards were bestowed on March 11 during AIMCAL's business meeting at the annual Management Meeting, held this year on March 10–13 at Rancho Las Palmas in Rancho Mirage, CA.
Bringing Home the Bacon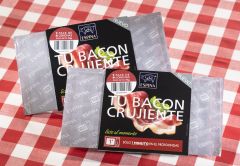 Graphic Packaging was converter and metallizer for the Bacon Microondas Espina package while it also assisted with design. QuiltWave susceptor rollstock comprises a dual lamination of polyethylene terephthalate (PET)/paper, patterned susceptor-metallized PET. A printed paperboard sleeve (removed prior to cooking) offers brand identity and product information.
How it works: QuiltWave susceptors inflate during the one-minute cooking period and contact four bacon slices until the desired crispness is achieved. Ease of use, attractive graphics, and functionality contributed to this entry's all-around Product of the Year Award winning appeal.
Nothing Fishy about this Carton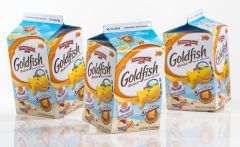 "Finn at the Beach" has more going for it than just a play on words. Winning the Marketing Award in the Food Packaging Category is a gabletop carton for Goldfish crackers from Pepperidge Farm, Norwalk, CT. Winning accolades once again is Graphic Packaging, Consumer Products Div., Lawrenceburg, TN, for metallizing and converting.
The heat sealable, reclosable carton comprises 0.019-in. milk carton stock from Evergreen Paperboard, Memphis, TN, which is reverse rotogravure-printed PET/PE/Paperboard/PE/metallized PET/PE. This construction is a shelf standout in the snack food aisle, evidencing high gloss, vivid graphics, and barrier properties that eliminate the need for inner bags or hot melt sealing. The consumer will appreciate a pattern-coated silicone release agent at the top edge to permit easy opening of the gabletop.
High Barrier Has Clear Advantage
Camvac Ltd., Thetford, UK, earned the Technical Award in the Food Packaging Category for its ExtraPET transparent barrier lidstock for refrigerated, heat-and-eat meals from Old Country Pasta, Port Coquitlam, BC, Canada. Camvac 's sub-micron layer of aluminum oxide on polyester film from DuPont Teijin Films, Dumbfries, UK, is adhesive-laminated to Mylar 850 heat-sealable polyester film with Celplast Packaging Systems, Toronto, ON, Canada, as the converter. The lidstock is then sealed to a filled crystallized PET tray and applied with a pressure-sensitive label for branding and product information.
All in the Family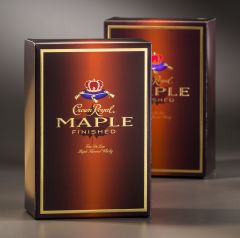 Crown Royal Maple Finished Whiskey, Diageo PLC of Norwalk CT, maintains a family look for this product line extension, while the metallized gold interior differentiates and reflects the whiskey's rich maple flavor. Unifoil, Fairfield, NJ, earned a Marketing Award in the Nonfood Packaging Category for converting the UniLustre substrate, coated one side 28-pt solid bleached sulfate (SBS) that's acrylic-coated and metallized in silver and gold. Toray Plastics (America), Kingstown, RI, performed metallizing; Hub Folding Box, Mansfield, MA was contract packager.
A 'Moving' Experience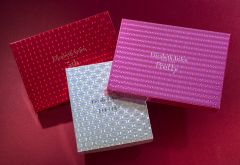 Elizabeth Arden, New York, NY, set-up cartons for its Red Door, Pretty, Prevage, and 5th Avenue brands capture the consumer's eye for a moving experience, using 2D, 3D, and lens holographic techniques. Hazen Paper Co., Holyoke, MA, is responsible for achieving the desired impact and is credited with a Marketing Award in the Healthcare, Toiletries, and Cosmetics Packaging Category. Hazen supplied the substrate, metallized the acrylic-coated Hazen Holographic 2D/3D Lens 60-gauge polyester/coated-one-side 80-pound litho paper, and shared converting duties with PrintaFoil Prestige Printing and Packaging, Cape Town, South Africa.
Considered a relatively new holographic technique, the three optical elements are said to produce a pattern with a high degree of movement that's eye-catching even from side angles. The pattern also provides a family look for the various Elizabeth Arden products. Design and contract packaging were performed by Cultech Groupe Autajon, South Plainfield, NJ.
Instant Pain Relief Adopts Impactful Holography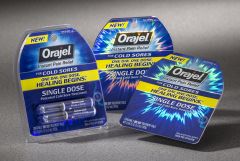 Orajel Instant Pain Relief from Church & Dwight Co. (Princeton, NJ) relies on catching the consumer's eye in an instant with custom holography from Hazen Paper for a foldover blistercard holding two Orajel Cold Sore Relief product tubes. Garnering an Honorable Mention in Healthcare, Toiletries, and Cosmetics Packaging Category, Hazen supplied and metallized the acrylic-coated 60-gauge Ultracure/C1S 0.012-inch SBS, which is converted by AGI-Shorewood Packaging, Indianapolis, IN. Graphics are printed in register with the custom hologram (Hazen Pattern #1280 version A 12-02-11) on 24 cards per sheet.
Lay-flat Features Aid Cut & Stack Machinability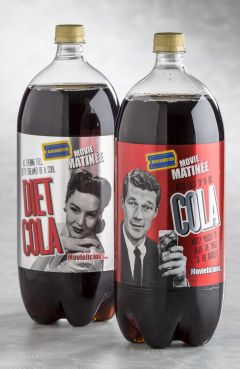 Earning the Technical Award in the Label: Retail Category is Super Film Ambalaj San. Tic. A.S., Gaziantep, Turkey, for metallizing 85-micron biaxially oriented polypropylene (BOPP) film for cut-and-stack labels converted by Webtech, Enniskillen, Northern Ireland. The metallized Supmet 1132 CLC BOPP is a white, opaque, cavitated film that exhibits no curl. The metallized side is top-coated for adhesion of gravure, offset, or ultraviolet flexographic inks and to promote scratch and wrinkle resistance; the reverse side is coated to receive wet/cold glue and to expedite adhesive drying time. Intended to replace metallized paper labels, the metallized BOPP provides water resistance, superior durability, low density, and high yield.
Custom Holography Complements Print Art
Hazen Paper hauls in another Marketing Award, this time in the Decorative/Display Category, for serving as metallizer and substrate supplier for this "keeper" attention-grabbing Finding Nemo Blue Ray DVD case, (a Disney Pixar, Burbank, CA, movie release). Ultracure acrylic-coated holographic film features Hazen Custom Pattern #1398 Finding Nemo–DVD Combo Wave with Rainbow Border 07-19-12 laminated to C1S 0.016-in. SBS. Precise alignment was required of graphic elements, embossing, and holography in order to execute tight registration successfully.
Thermal Shroud Keeps Products Cold/Frozen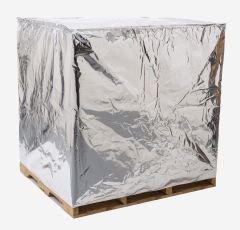 A patent-pending Microfoam Pallet Cover from Alpine Thermal Technologies, Moon Township, PA, gets the nod in the Industrial Category with a Technical Award for converting by Technical Coating Intl., Leland, NC. Comprising metallized polyester/low-density PE, the lamination employs a direct gravure process. The metallized material's moisture and thermal properties allow Alpine to replace conventional 2-pc foil/bubble wrap systems or quilted fabrics with a 1-pc insulating shroud to permit shipping frozen and refrigerated product in the same trailer, effectively eliminating the need for separate trailers. FilmTech, Bean Station, TN, metallizes the polyester; substrate supplier is Dana Films, Westborough, MA. A Velcro EZ Access option provides easy opening/reclosure. In addition, competition judges observed the shroud improves sustainability by reducing the number of trucks required for shipping.
Metallized Material Flaunts Recyclability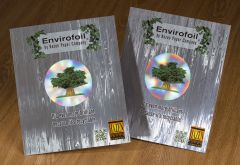 Accepting yet another Marketing Award, this time in the Other Category, was Hazen Paper for designing a magazine insert, metallizing, and converting it to showcase its Envirofoil material. The transfer-metallized, C2S 10-pt SBS features custom holography and combines White Motion and Hold-Lens images. It also highlights the recyclability of the metallized material, which uses 95% less metal than metallized inks. Company sources claim the insert ranks as the best-received design in the company's history.
Window Film Scores Tech Breakthrough & Technology of the Year Award
Solutia, an Eastman Chemical Co. subsidiary (Fieldale, VA), scored twin home runs with its EnerLogic VEP35 Low-E Window Film, taking home the Technical Award in the Other Category in the Vacuum Metallized or Coated Product Competition as well as the AIMCAL Technology of the Year Award.
The patent-pending low-emissivity window film delivers an emissivity rating of 0.07, considered a substantial improvement over the 0.33 level of the next best performing low-e film. In addition, anti-reflective layers reduce the amount of rainbow, or oil slick, appearance traditionally associated with low-e window films when installed near high-performance fluorescent lighting. The low-e structure maximizes energy savings by reflecting heat from the sun in the summer and directing radiant heat back into the room during the winter. As a result, applying the film boosts insulating ability equal to adding a pane of glass at a fraction of the cost of a replacement window. In fact, the film is said to deliver 92% more insulating performance as measured by center-of-glass R value.
The 2-mil clear PET, with ultraviolet absorbers and multiple coatings, is reported to maintain flexibility, limit stress cracking, and prevent smudges and scratches. Return-on-investment for large commercial buildings is claimed to average 2.75 years, and the material may qualify for energy rebates and favorable ratings from Green Building certification programs.
Sustainable Features Stand in Green Spotlight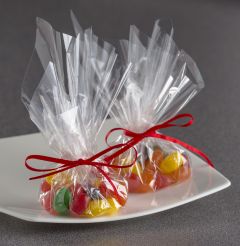 Accepting this year's AIMCAL Sustainabilty Award was Flex America Inc., Elizabethtown, KY, for its biaxially oriented PET (BOPET) film with 30% renewable content. Traditionally, PET is made from a polymeric reaction of monoethylene glycol (MEG) and purified terephthalic acid derived from petrochemical-based feedstocks. However, FLEXPET™ Green PET Films rely on MEG made from bioethanol produced from plant-based inputs such as sugarcane.
Destined primarily for packaging applications, FLEXPET Green PET Films are approved for direct food contact by the US Food & Drug Administration and regulators in Europe, and exhibit the same functional properties as BOPET films made from conventional PET resin. Flex America offers the films in a variety of widths and thicknesses, including a 12-micron grade that's corona-treated on one side. Of greatest significance, according to the judges, was the ability to replace non-renewable content with renewable that could potentially reduce carbon footprint issues.
Two Named Technology Award Finalists
Industrial Brush Co., Fairfield, NJ, was recognized in the Coating/Laminating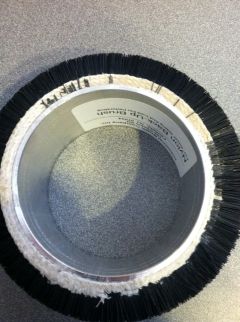 Equipment/Accessories Category for its Brississity Rotating Cylinder Brushes, which act as back-up brushes to support webs during razor slitting and pin perforating (distributed exclusively by AIMCAL member Finzer Roller Co., Fairfield, NJ). Razor slitting and cold pin perforating rely on thousands of nylon fibers; while natural Tampico bristles are used for hot pin perforating.
With each revolution, the fibers/bristles bend and recover their original orientation to support the web without damaging the brush, blade, or pins. The Brississity Rotating Cylinder Brush is claimed to cut set-up time, prevent misalignment of pins and knives, reduce dust and dirt generated when razor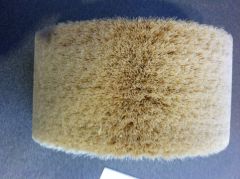 knives rub against the side wall or bottom of a segmented steel roll, enhance operator safety by minimizing handling of sharp knives and pins, and cost less than the metal or rubber-covered anvil rolls traditionally used for web support.
Menges Roller Co., Wauconda, IL, earned finalist status in the Metallizing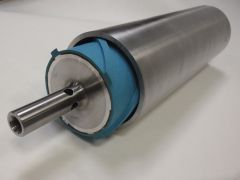 Equipment/ Accessories Category for its patent-pending, internally coated Hybrid Heat Transfer Rollers. A flame-sprayed metallic coating protects the inner wall of the outer shell, while an elastomeric coating is applied to the circumference of the inner shell and shaped to form spiral flutes similar in size and angle to the metal parts traditionally used. The coatings prevent corrosion and deposit buildup, which occurs over time as process water or fluid is pumped through conventional rollers to heat or cool the substrate being handled.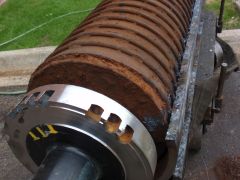 Preventing corrosion and deposits eliminates the need to replace rollers every few years or periodically send rollers out for cleaning. Eliminating corrosion and deposits also prevents product rejects and line slowdowns resulting from corroded rollers not reaching the proper process temperature or needing a longer dwell time to achieve the required heat transfer. The use of interior coatings on the roller and the potential for increased productivity over the equipment's lifespan particularly impressed the expert judging panel.
Holding the Gavel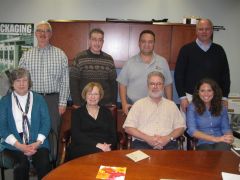 The judging panel for the 2013 Vacuum Metallized or Coated Product Competition and Sustainability Awards Competition included Vince DiTrolio, vice president/owner of DiTrolio Flexographic Inst., Broadview, IL; Jeffrey T. Weber, research principal, Mondelez Intl. Inc., (formerly Kraft Foods), Glenview, IL; Stan Kopecky, principal, SJK Packaging Assoc., Prospect Heights, IL; Yolanda Simonsis, president/editorial director, Paper, Film & Foil Converter (PFFC), Chicago, IL; and Pat Reynolds, editor-in-chief, Packaging World magazine, Chicago, IL. The judging session was co-hosted by Simonsis and Reynolds at Packaging World's office.
The judging panel for the 2013 Technology of the Year Competition included five recognized experts in the converting field: Dr. Charles A. Bishop of C.A. Bishop Consulting, Loughborough, UK; Dr. Edward D. Cohen of Edward D. Cohen Consulting, Fountain Hills, AZ; Larry Gogolin of Gogolin Assoc., Bolton, MA; Dr. Eldridge M. Mount of EMMOUNT Technologies, Canadaigua, NY; and Dr. Don McClure, president of Acuity Consulting and Training, Siren, WI. AIMCAL Awards Committee Chair Randy Apperson, director of Sales & Marketing at Finzer Roller, Des Plaines, IL, moderated the judging teleconference.