Published: February 01, 2010, By By Robert H. Hamilton, AWA Alexander Watson Assoc.
See Coating & Laminating Contract Services Directory PDF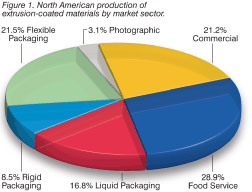 With nearly 11% of the North American market for extrusion-coated/laminated materials on a weight basis — and 21.5% on an area basis — flexible packaging is well positioned to grow strongly in the medium to long term (see Figure 1). There are a number of reasons for this.
Currently behind the food service, liquid packaging, and rigid packaging sectors, flexible packaging nevertheless is experiencing annual market growth in excess of 4% on both a weight and an area basis. The outstanding benefits of flexible packaging are its light weight and dimensionally smaller package size, which deliver logistics benefits that include less costly shipping, more products per square foot on the supermarket shelf, and — in terms of material usage — a better environmental profile.
A Choice of Constructions
There is a wide choice of flexible package constructions involving papers, films, aluminium foils, and most recently, renewable polymer materials such as maize-based polylactic acid (PLA). Pouches are a popular option, and just as well as conventional pouch laminates, they can be stand-up, retortable, or "stick" constructions. Sachets for small dosages are another major market, and bags, wraps, and blister packs represent the balance of market consumption.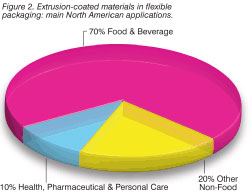 While flexible packaging is used in many end-use markets — from food and beverage to consumer goods, medical, agricultural, and industrial applications — it is in food and beverage that this packaging format truly has come into its own, with 70% of the current market (see Figure 2).
Food & Beverage
Food and beverage applications offer a broad range of options for converters equipped to manufacture flexible packaging. Snack food bags are an obvious opportunity, while wraps for dairy foods such as cheese, as well as meat, fish, and poultry, are interesting both for refrigerated case prepacks and for deli counter personal portion service. Powdered drinks, coffee (both ground and whole bean), dry mix pouches, and of course, pouched pet foods are some other major product applications.
Next Page: Other End-Use Markets
See Coating & Laminating Contract Services Directory PDF
Other End-Use Markets
The remaining North American consumption of extrusion-coated/laminated materials is in healthcare (including pharmaceuticals) and personal care products (10%) and in consumer durables packaging, such as electronic and automotive components and domestic appliances. Here, flexible packaging performs an additional role, ensuring secure packaging of small items, and it may partner rigid packaging for added protection. Packaging for inkjet cartridges is a good example. Specialist applications involving flexible packaging — medical devices and disposables, machine parts, etc. — are also in evidence today.
Added Value in Functions & Aesthetics
In all cases, flexible packaging — particularly for food and beverage — delivers a high degree of product protection from air and moisture ingress, helping to maintain product freshness and purity. It additionally provides useful evidence of any product tampering.
Aside from these functional considerations, flexible packaging responds to consumer demand for ease of opening, for single-service packs in line with today's "on the run" lifestyle, and for package reclosure mechanisms, e.g., on packs of frozen berries and vegetables.
Manufacturing Challenges
The manufacture of flexible packaging presents many challenges. Constructions can be very complex, and generally involve multiple layers and extrusion lamination of film to film, film to paper, film to foil, and paper to foil. Films are growing more rapidly than papers as a result of technology advances in printability, better protective properties, and tangible weight reductions.
Environmental Initiatives
Not all films are environmentally friendly, however, and there is an increasing focus — driven by consumer sentiment and major retailers such as Walmart — on using renewable resources for packaging. In parallel, end-users are looking for reductions in film caliper to deliver overall reductions in material usage, as well as less packaging waste. Paper-based flexible packaging products still are considered a sustainable alternative also.
There are indications that the growth rate for the use of "green" flexible packaging will be in the order of 20% for the medium term, doubling its current share; but the limited availability of feedstocks, the modifications to packaging equipment required to allow their use, and the comparatively high costs are likely to restrict further growth. There are also recycling issues, especially when "green" films are to be recycled with conventional plastics.
A Well-Populated Supply Base
North America is well provisioned with suppliers of extrusion-coated/laminated flexible packaging. We estimate that as many as 250 are currently active in the production of flexible packaging, with approximately half of them also extrusion coating or laminating. Many are small, but there are between 60 and 70 large suppliers operating in North America, among them Bemis, Rio Tinto-Alcan (shortly to become part of Amcor), Sealed Air, Printpack, Sonoco, and Bryce. (This is, interestingly, in sharp contrast to the situation pertaining to liquid packaging, and to a lesser extent rigid packaging, in which there are few North American suppliers.)
Imports and exports of extrusion coated/laminated flexible packaging represent small percentages of both consumption and production, and roughly balance out, with imports leading exports by less than 1%. Imports account for 15%-20% of total consumption.
Want To Learn More?
AWA regularly publishes studies on the North American coating and converting industries, such as Extrusion Coated Materials: North American Market Study and Sourcebook 2008 and the forthcoming Metallizing Markets Global Review 2010. For more information, visit www.awa-bv.com.
Extrusion Coating in North America
North America traditionally has led Europe in the production of extrusion-coated paperboards, papers, films, and foils, but today the position is reversed. This is a result of the assimilation of the high-growth markets in Eastern Europe, and Europe's strength in the global aseptic liquid packaging and photographic markets. However, overall growth in Europe is expected to be lower, at least in the short term, than that in North America, where it is forecast at 2.4%/yr for all applications on a weight basis and at the higher rate of about 3% on an area basis. This is a result of ongoing "downgauging" of substrates, both paper and film, to reduce costs and deliver improved environmental credentials.
Growth Potential
Flexible packaging shows the greatest growth potential overall, but other high-growth applications include the digital imaging sectors of photographic and graphic applications, disposable cups in food service, release liners, building membranes, and medical/hygiene applications. All of these are expected to grow at rates higher than gross domestic product (GDP).
Next Page: Industry Consolidation
See Coating & Laminating Contract Services Directory PDF
Challenges
However, as in all industrial sectors, the global financial crisis has impacted growth, and energy and raw material costs — for natural gas, crude oil, wood pulp, and maize, for example — continue to rise. There is increasing competition to extrusion coating from technologies such as aqueous coatings, adhesive lamination, and coextruded films.
Environmental pressures involving overall reductions in packaging and the use of renewable-resource-based materials are being experienced as a result of consumer environmental pressure groups and major retailers and end-users. This has implications for the manufacturing base and in terms of increased costs.
Industry Consolidation
Consolidation — especially within the flexible packaging segment — continues to change the face of the extrusion coating industry; and while this creates unrest in the short term, it is streamlining a diversified and fragmented sector. It is also adding value by encouraging forward integration, as well as better control of raw material and energy usage, and economies of scale in purchasing. Consolidated companies also are better placed to exploit the benefits of cross-fertilization of different market segments, especially in the flexible packaging and commercial product arenas.
A Platform of Opportunity
The extrusion coating industry in North America also enjoys an expanding platform of opportunity as the profile of its products continues to gain acceptance and approbation in terms of both performance and environmental compliance. This is particularly true for materials that do not use petroleum-based content — e.g., papers and renewable-resource polymers. Sustainability in manufacturing processes — with attendant cost savings — is a driver here, but there is also strong consumer support for recyclability of such items as one-trip coffee cups, which is encouraging new product development by leading suppliers such as International Paper and MeadWestvaco/Solo.
Finally, in the wake of the global financial crisis, North America (the US dollar in particular) is benefitting from current currency exchange rates, which enhance export opportunities.
As a member of the AWA Alexander Watson consultant team, Bob Hamilton has focused on lightweight specialty papers for printing, flexible packaging grades, label face papers, release papers, and industrial specialty papers. He is co-author of two recent AWA multiclient studies, North American Extrusion Coating (2008) and Global Specialty Papers (2009). In addition, he provides process consulting services to forest product and bioenergy companies through his own company, Stirling Consulting Inc. He holds a BS degree in chemical engineering. Contact him at This email address is being protected from spambots. You need JavaScript enabled to view it..