Published: September 17, 2013
MISSISSAUGA, ON, CANADA | Plastic film and sheet extrusion systems supplier Macro Engineering & Technology will introduce the FlatPack coextrusion die for extruding high-barrier multilayer films at the K 2013 Trade Fair, October 16–23 in Düsseldorf, Germany.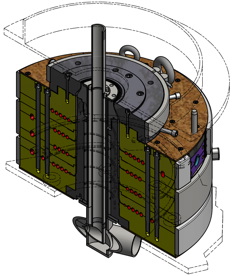 The die, which will coextrude films up to 11 layers, can be used to produce structures using any barrier material including PA (Nylon), EVOH, PETG, and PVdC. The design features round flow channels throughout and is said to streamline the flow of polymer to optimize residence time distribution and shorten residence time. This reduced residence time virtually eliminates interfacial instability, company says, making the die more versatile for a wider range of film structures. The die also features shortened purging times, allowing processors to perform faster product changeovers with reduced scrap generation.
"Over the past year we have revamped our extrusion die department," says Macro CEO Jim Stobie. "Our objective is to provide more versatile extrusion dies to flexible film producers; dies that allow users to manufacture a broader range of products while being more reliable and with less downtime. We've invested in our rheology and engineering personnel to drive that innovation. We've refocused our blown film die offering, upgraded our CenterPack die, and we are excited to launch our new FlatPack die in October."
This email address is being protected from spambots. You need JavaScript enabled to view it.