Published: January 02, 2013, By Claudia Hine
By its very nature, the converting industry encompasses a wide spectrum of materials and equipment necessary to produce its primary products—flexible packaging; tapes, labels, and tags; cartons and boxes; and unprinted rolls and sheets. So it came as no surprise, when we compiled the top products of 2012, that we found adhesives, films, printing presses, doctor blades, and a variety of coatings on the list.
How We Compile the List
Each week throughout the year, PFFC delivers the latest news and new products to its audience through our E-Clips e-mail newsletter. As our readers click on links to learn more about the items that capture their attention, we tally the clicks. At the end of the year, we compile the list of the top ten products. In 2012, however, we had a tie for tenth place, so here are your top 11 products of the year.
Henkel EB Coatings
Henkel, Cary, NC, offers EB coatings that allow a move from traditional lamination to a new process—EB surface-printed mono-web—that eliminates adhesive and one layer of film. The 100% solids coating is said to reduce carbon footprint. Products include direct and indirect FDA food approval.
Application methods include flexo and gravure for pouches, retort packaging, and high COF end-use applications. Acceptable substrates include OPP, PET, MET, PE, and aluminum.
This email address is being protected from spambots. You need JavaScript enabled to view it.
H.B. Fuller Flextra Fast Adhesive
H.B. Fuller, St. Paul, MN, adds a laminating adhesive for large stand-up pouches to its Flextra family of flexible packaging laminating adhesives. This solvent-free adhesive is said to strengthen overall pouch structure to reduce supply chain damage.
With a platform built on speed in processing and speed to cure for safe food packaging, the adhesive is party of the Flextra Fast group, allowing laminating as fast as 1,700 fpm, slitting in as few as three hours, PAA decay in as few as two days, and filling and shipping is as few as two days.
This email address is being protected from spambots. You need JavaScript enabled to view it.
Filmquest NanoShield
The Filmquest Group, Bolingbrook, IL, offers NanoShield, a high-barrier plastic film layer suited for food packaging. Said to resist moisture and oxygen from penetrating a clear package structure, resulting in fresher and healthier food with improved shelf life.
Company says technology has environmental benefits and can replace clear PVdC-based films presently available. There are no free chlorine or solvents used in this recyclable product, and reportedly it requires less material than present packaging for both cost-effectiveness and high-barrier performance.
Recommended uses include packaging for chicken, nuts, dried foods, dry snacks, air fresheners, pet food, and more.
This email address is being protected from spambots. You need JavaScript enabled to view it.
NanoPack Bairicade XT Barrier Coating
NanoPack, Wayne, PA, a developer of proprietary barrier coatings for films used in processed food packaging, has introduced a new coating called Bairicade XT. Benefits of the new water-based product include reduced costs and the ability for coating and printing in-line on high-speed flexo and rotogravure printing processes.
Bairicade XT coating, with global patents pending, provides extended shelf life for products such as snacks, nuts, seeds, seasonings, candy, coffee, and tea packages. A clear, ultra-thin oxygen barrier coating uses 50% less water than previous coatings. With less drying requirement, shorter ovens are sufficient and press speeds can be increased.
The coating supports sustainability programs with source reduction and elimination of highly chlorinated alternative coatings, and it will compost with current bio-film products. The new coating has been approved for indirect food contact by the US FDA.
Sun Chemical SunScent Coatings
Sun Chemical, Parsippany, NJ, has teamed up with ScentSational Technologies, Jenkintown, PA, to introduce SunScent coatings, a commercially printable coating said to allow any printer to incorporate scent directly onto the packaging substrate. Scent stays inactive until consumers handle the package and trigger a release.
Available for flexo, gravure, and offset coating units, coatings can be applied directly onto packaging as a spot coating and done in-line, working with any current pressroom configuration, company says. Stock scents are available but custom "Signature Scents" can be developed for brands that want a unique scent associated with their product.
Unlike traditional scratch-and-sniff labels, the desired scent is applied directly onto the primary packaging, including flexible packaging pouches and other tamper-resistant packages that consumers cannot open on the grocery shelf. Additionally, the structure of microencapsulates in the coatings is designed to prevent premature breakage during the printing process while delivering maximum scent release. SunScent coatings can be designed to release scent at the shelf or during opening and use.
This email address is being protected from spambots. You need JavaScript enabled to view it.
Landa Nanographic Printing
Landa Corp., Rehovot, Israel, unveiled its line-up of Nanographic sheetfed and web presses for mainstream commercial and packaging markets. Nanography is a new digital printing category said to offer the versatility of digital with the qualities and speed of offset printing—at unmatched cost-per-page.
At the heart of the Nanographic Printing process is Landa NanoInk. Comprised of pigment particles only tens of nanometres in size (a human hair is about 100,000 nanometres wide), these nano-pigments are extremely powerful absorbers of light and enable unprecedented image qualities. Landa Nanographic Printing is characterized by ultra-sharp dots of extremely high uniformity, high gloss fidelity, and the broadest CMYK color gamut of any printing process.
The Landa Nanographic Printing process reportedly creates images of remarkable abrasion and scratch resistance. Most notably, it can print on any off-the-shelf substrate, from coated and uncoated paper stocks to recycled carton; from newsprint to plastic packaging films - all without requiring any kind of pre-treatment or special coating—and no post-drying. Adding to this cost benefit is the fact that Nanographic images are only 500 nanometres thick—about half the thickness of offset images—enabling Landa NanoInk to produce the lowest cost-per-page digital images in the industry. All of this from a water-based, energy-efficient, and eco-friendly process.
Landa Nanographic Printing Presses employ ink ejectors to create the digital ink images, which get applied to the printing stock in a process that can operate at extremely high speeds. Each Landa press, which has an exceptionally small footprint, even when compared to other digital presses, can print in up to eight colors and can operate at 600 dpi or 1200 dpi resolution.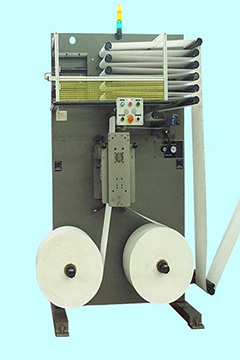 CTC Intl. CS1214 Splicer
CTC Intl., West Caldwell, NJ, introduces the CS1214 splicer, a smaller version of the CS1224 "clamshell" splicer, engineered for nonstop packaging and converting applications. This smaller version is 36 in. long, allowing it to fit in the most compact areas, and it can accommodate two full 14-in.-dia rolls.
The clamshell splicer mechanism opens 90 deg into a horizontal plane, providing a flat work table on which to easily prep the splice. The two unwind shafts for the supply rolls are located at the bottom of the machine, close to the floor, minimizing material handling during roll loading.
The splicer also features company's "splice at any speed" system, which guarantees that a change in line speed during the splice will not affect the registration of preprinted materials. Many options are available.
This email address is being protected from spambots. You need JavaScript enabled to view it.
Tresu FlexiPrint Doctor Blade System
Tresu, Bjert, Denmark, offers the FlexiPrint reservoir chamber doctor blade system featuring an easy-load cassette for inks and coatings. No circulation pump is necessary, and company says unit uses less ink.
Reportedly, patented E-Line clamping system allows fast doctor blade change; patented seals guarantee quality; and system will increase production speed significantly. Other reported benefits include ease of loading, handling, and lock/unlock.
This email address is being protected from spambots. You need JavaScript enabled to view it.
Henkel Aerobond System
The Aerobond system from Henkel, Dusseldorf, Germany, is said to speed up laminating processes in the paper industry while improving efficiency. The system incorporates a laminating adhesive and the Glue-Mix unit from Hansa, a device designed to match the specially developed Henkel adhesive, which introduces controlled quantities of air into the adhesive and distributes it optimally over the substrate surface. This application considerably increases the volume of the adhesive, so that significantly less adhesive is used for the same laminating area, company says.
Reportedly, the system also has a substantial impact on conditioning times. The volume of air in the mix reduces the moisture content, cutting lengthy conditioning times to just a few hours while ensuring better bonding.
The process decreases the moisture content over the bonding area, thus improving flatness. The aerated adhesive is better able to compensate for unevenness across the substrate surface, company adds, and this improves the initial bond strength and minimizes areas with insufficient adhesion.
This email address is being protected from spambots. You need JavaScript enabled to view it.
ExxonMobil Label-Lyte 40LL539 OPP Film
ExxonMobil Chemical, Houston, TX, introduces Label-Lyte 40LL539 OPP film, a clear, two-side-coated film said to allow downgauging opportunities for lighter weight labels with a glossy no-label look.
Company says film is designed for demanding pressure-sensitive label applications that require outstanding ink adhesion and adhesive anchorage. These include beverages (alcoholic, carbonated, mineral waters), health and beauty products, pharmaceuticals, general consumer goods, household products, pet food, and other diverse markets.
Coated print surface is compatible with UV, flexo, letterpress, screen, and offset systems. The film is also compatible with solvent- and water-based flexo and solvent-based gravure, and hot and cold foil stamping.
This email address is being protected from spambots. You need JavaScript enabled to view it.
Nippon Soarnol NC Series EVOH/Clay Composites
Nippon Synthetic Chemical Industry Co., Osaka, Japan, in an exclusive global licensing agreement with Nanobiomatters, Valencia, Spain, launches the first of a series of EVOH/specialty clay composites. Nippon is marketing the EVOH clay composite products using Nanobiomatter's proprietary clay-based additive O2Block Barrier—designed to improve various polymers such as EVOH—under the Soarnol NC Series trade name.
The first commercial grade is Soarnol NC7003, launched at the recent NPE2012. It is a fully formulated grade based on 29 ethylene content EVOH. The company reports it can offer data showing notable improvement in barrier over conventional EVOH, especially at high humidity. Nippon plans to introduce additional grades based on different ethylene content EVOH later this year.
This email address is being protected from spambots. You need JavaScript enabled to view it.
Subscribe to E-Clips
It's time to start tallying the votes for 2013's best new products. Want to cast your ballot? Sign up to receive our free weekly E-Clips e-mail newsletter here and starting clicking!