Published: December 12, 2012
MIDDLETON, WI | NAStar's auto-applied MagneTernative construction will stick anywhere a regular magnet will but also everywhere a magnet won't. The consumer removes the liner exposing NAStar's T1055 Temporary Adhesive and affixes the promotional message anywhere—both magnetic and nonmagnetic surfaces.
In addition to its versatility, the MagneTernative is a cost-effective alternative to traditional magnets, and it auto dispenses as a label versus messy, glue-applied traditional magnets.
The MagneTernative's construction: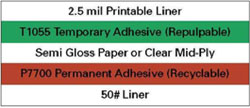 For samples or more information, contact NAStar Inc. at 800.676.9665 or visit www.nastar-inc.com/magneternative.