Published: March 18, 2011, By By Yolanda Simonsis, Assoc. Publisher/Editor
During the Assn. of Intl. Metallizers, Coaters & Laminator's annual management meeting on the opening night of the March 20–23 event at the Boulders Resort in Carefree, AZ, top honors were presented to GPI and a total of six additional category winners for either Marketing or Technical excellence. Additionally, awards were presented for Sustainability as well as Technology of the Year.
Nothing Generic
There's nothing generic about the tissue canister housing Kimberly-Clark's Kleenex tissues (1). Graphic Packaging Intl., Marietta, GA, virtually blew away its competition for a series of oval holiday canisters, making it the third consecutive year for GPI to receive the distinguished Peter Rigney Product of the Year Award.*
GPI formed a holiday-decorated three-piece canister with a sidewall featuring ultraviolet (UV) coating/UV inks/heat-seal coating/8-ga metallized polyethylene terephthalate (mPET)/0.016-in. solid bleached sulfate (SBS)/0.75-mil extruded low-density polyethylene (LDPE). Wavefront Technology, Paramount, CA, supplies and metallizes the PET, then with a proprietary process, creates a lens pattern simulating a holiday ornament with three-dimensional attributes–without any embossing. Registration marks in the film ensure the lens pattern aligns perfectly with the graphics.
The canister sidewall is wrapped over an oval mandrel, using Paper Machinery Corp. (Milwaukee, WI) equipment, then it's heat-sealed to the base stock; tissue is automatically filled into the open canister followed by snapping the lid in place.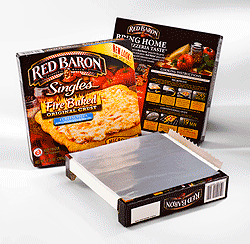 Despite the premium $2.99 price tag, judges felt consumers would be attracted to the canister's extraordinary appearance to rationalize their purchase. No need to hide this Kleenex box under another decorative holiday cover!
Waste Not, Want Not
Snagging yet another award, this time for Technical merit in the Food Packaging category, is GPI's converted susceptor package for Red Baron Fire Baked Pizza Singles (2) from Schwan's Consumer Brands North America, Marshall, MI. The new design prevents warping to extend product shelf life six months while presenting a more attractive package and enabling even cooking in less time.
The package comprises overprint varnish/ink/SBS/patterned adhesive/paper/adhesive/mPET to create a functional susceptor that eliminates front panel warpage after repeated freeze/thaw cycles. The patterned adhesive application is credited for warpage reduction by creating open channels between the SBS and susceptor, allowing humidity to vent to the interior of the carton instead of passing through the paperboard. Additionally, the new design increases packaging line speed 7% and reduces waste 12%.
Toray Plastic (America) Inc., North Kingstown, RI, supplies the PET film; Rol-Vac LP, Dayville, CT, performs metallization.
Mouthwatering Graphics
The Packaging Div. of Uflex Ltd., Noida, India, deserves a Marketing Award in the Food Packaging category for converting a stand-up pouch for chocolate brownies (3) from Cadbury India Ltd., Mumbai, India. Exterior package graphics complement and communicate the smooth chocolatey nature of the interior rich éclair brownie product.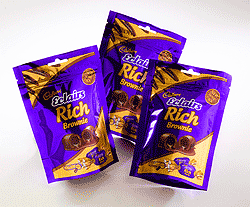 Uflex provides the substrate, rotogravure printing, plasma metallization (for improved barrier properties), laminating, and slitting. A die-punched hole facilitates retail display while a press-to-close zipper protects freshness upon opening once in the consumer's possession.
Slip Case Rocks 'N' Rolls
A slip case for the Elvis 75th Anniversary DVD (4) befits the King of Rock  'N' Roll and earns a Marketing Award in the Nonfood Packaging category for Hazen Paper Co., Holyoke, MS. The Warner Home Video (Burbank, CA) DVD collection reflects the cultural icon's unique persona with a custom hologram repeating the Elvis name while also communicating the brand's integrity and showmanship pizzazz.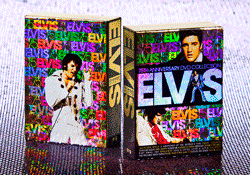 The wrap consists of 60-ga custom holographic mPET laminated to 80#, coated-one-side (C1S) litho/label paper from Hazen. A two-/three-dimensional Holo-Lens insert adds a security feature.
Reduced score cracking is achieved through use of PET, and the litho-label stock exhibits excellent lay-flat and stay-flat characteristics to support faster printing and die-cutting speeds. Multi Packaging Solutions, Indianapolis, IN, is converter and co-designer with Warner Home Video.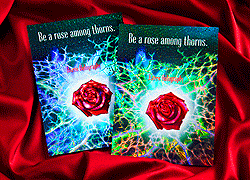 Smells Like a Rose
Hazen wins a second award for Technical merit in the Decorative Display category for a Rose Among Thorns (5) magazine insert that publicizes its custom holographic capabilities and sustainable practices. A custom, transfer-metallized hologram comprises 10-pt, C2S paper overprinted in four-color process plus opaque white and topped with a UV coating on the front and back.
Transfer metallizing is said to help the relatively lightweight insert lay flat because it permits moisture loss and gain on both sides of the sheet. Transfer metallizing achieves source reduction by eliminating a metallized film layer while offering superior aesthetics and minimal warping.
Hit the Floor Shining
In the Decorative Display category, FLEXcon Co., Spencer, MA, wins a Marketing Award for its indoor floor substrate featuring advertisements for Tecate beer (6) from Heineken USA, New York, NY. Dunmore Corp., Bristol, PA, serves as metallizer, and Performance Printing, Dallas, TX, is the converter.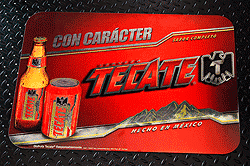 FLEXmark MMV 400 F Silver TC-848 A-109 94 PRW serves as the base film comprising a 4-mil, metallized silver, pressure-sensitive polyester/vinyl laminate. This rendition replaces a previous structure employing screen-printed faux metallic ink with a metallized base film that's shinier and more reflective. And while the p-s adhesive bonds strong to floor surfaces, it removes cleanly for up to 180 days following installation.
The surface-printed, four-color-process graphics are protected by FLEXmark OV6602. This 4-mil, clear gloss, p-s vinyl overlaminate resists delamination and meets industry standards for non-slip performance.
A Super Stadium Collectible
Produced for Super Bowl XLIV in limited quantities for fans and collectors who attended the Saints versus Colts game, Hazen Paper took home a third win for Marketing in the Other category. A custom holographic cover decorates an Exclusive Stadium Collection Edition program (7) from H.O. Zimmerman (Lynn, MA) that Hazen designed, embossed, metallized, and laminated, featuring the Vince Lombardi Trophy.
The process involved transfer metallization to 100# C2S paper. Then it was coated in-line with Ultracure Acrylic, to effect impactful three dimensionality.
Continue to Page 2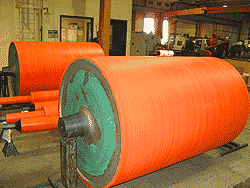 Sustainability Awards
The Sustainability Awards honor equipment, materials, or processes that reduce environmental impact, minimize energy usage or waste, and/or increase recycling. Four companies received recognition.
Cel-Met and O2 Barrier metallized sealants (8) from Cel-Plast received kudos for downgauging of approximately 25% without compromising the barrier properties or performance of the barrier laminate for stand-up and peg-display pouches. Replacing metallized oriented polypropylene (OPP) to reduce a three-ply structure to two plies, Cel-Met maintains an oxygen transmission rate (OTR) of 4.0 cm3/100 in.2/day and a water vapor transmission rate (WVTR) of 0.08 g/100 in.2/day. The O2 Barrier sealant replaces metallized PET to convert a three-ply structure to a two-ply and is claimed to provide even higher barrier properties: 0.04 cm3/100 in.2/day OTR and 0.05 g/100 in.2/day WVTR. Adhesive also is conserved by eliminating a second lamination pass while reducing energy requirements 31% for solvent-based structures and 11% for solventless. Also dropped are CO2 emissions by 34% for solvent-based laminating and 30% for solventless.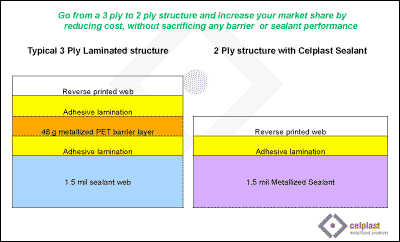 A second Sustainability Award goes to Menges Roller Co. for its Tiger-Max (9) thermoplastic urethane roller covering (also see PFFC, December 2010, p30) that performs as a recyclable replacement for traditional rubber rollers found on converting and packaging machines. The elastomeric covering, which can be recycled into new coverings to reduce material sent to landfills, is said to provide excellent chemical resistance, superior load-bearing, and better cut and abrasion resistance.
Mitsubishi Polyester Film is credited for its development of a closed-loop recovery and recycling system that increases recycling of silicone-treated PET liner used in conjunction with  p-s labels. The liner-to-liner recycling process produces Reprocess Sustainable Liners (10) with recycled content and diverts spent liner from landfills or shipping overseas for low-end applications. A third-party evaluation in a cradle-to-gate analysis shows the Cumulative Energy Demand for production of 1 kg of PET chip from recovered spent liner is 92% less than for the production of 1 kg of virgin chip. Carbon footprint is also 74% less. Mitsubishi projects recovering several million pounds of spent liner in year one.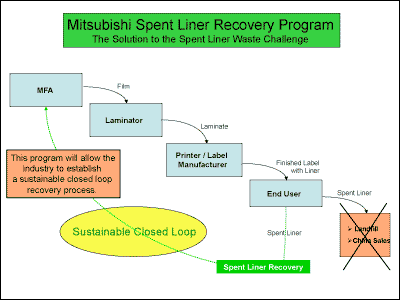 A final Sustainability award goes to Taghleef for a flower bouquet sleeve (11) comprising heat-sealable Nativia NZSS biaxially oriented polylactic acid (PLA) film. It's derived from corn and is compostable, so both flowers and sleeve are disposable. Produced in Taghleef's facility in San Giorgio Di Nogaro, Italy, the crystal clear front sleeve, with metallized back, both protects the flowers during transport and handling as well as catches the consumer eye. PLA's smaller carbon footprint is due to lower energy requirements in the production process and the CO2 absorbed by the corn as it grows.
Technology of the Year
Deserving AIMCAL's Technology of the Year Award is Sensory Analytics, Greensboro, NC, for its SpecMetrix Systems coating thickness and film weight measurement technology (12). SpecMetrix serves as an optical interference technology to combine state-of-the-art optics, proprietary algorithms, and its advanced software tools to provide real-time thickness data on single or dual coating or film layers of any color ranging from 0.2 to 200 microns. In-line and lab versions of the process improvement and quality assurance tool measure wet or dry clear or opaque coating layers, including ultraviolet hard coats and adhesive layers. Identifying defects earlier in the process thus can enhance quality and line productivity. With multiple international patent applications pending, the technology requires no contact and is nonradioactive and nondestructive. Judges predict this tool will impact an extremely broad segment of the converting industry.
Two finalists also were cited by the judges. The first is VAST Films Ltd., Darlington, PA, for MetDetect (13) metallized film in the Coated, Laminated, or Metallized Product category. Developed in conjunction with Detection Systems, Bayswater, Australia, the patent-pending material resembles a honeycomb that divides the metallized area into small segments to allow radio waves, say from metal detectors or radio frequency identification (RFID), to pass through as if metallization were not present while still appearing to be fully metallized. Use as a tuned microwave susceptor is also underway.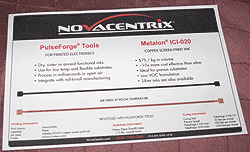 NovaCentrix, Austin, TX, is named a second finalist in the Material category for its Metalon ICE-020 Copper-Oxide Reduction Electrically Conducting Screen Ink. (14). A built-in reduction agent converts the low-cost copper oxide ink into a highly conductive copper thin-film after printing and post-processing with the company's PulseForge tools that dry, sinter, or anneal functional inks in milliseconds. The ICI-020 formulation (a successor to ICI-003 inkjet ink) for screen-printed/flexible electronics can be processed in open air at ambient temperatures for "smart" packaging and RFID antennae. In the production of printed electronics—at $75/kg for copper-oxide-based ink versus the cost of $1,000/kg for typically used silver-flake-based inks—there's the potential for significant cost reduction.
Holding the Gavel
Awards Committee Chair Steve Sedlak, sales manager for ESK, Ceradyne Inc., Costa Mesa, CA, moderated the judging panels for all competitions. The Vacuum Metallized or Coated Product Competition and Sustainability Awards were judged by the following: Vince DiTrolio, VP/owner of DiTrolio Flexographic Inst., Broadview, IL; Travis Funk, senior packaging engineer, Diageo, Norwalk, CT; Jeffrey T. Weber, research principal, Kraft Foods, Glenview, IL; Stan Kopecky, principal, SJK Packaging Assoc., Prospect Hts., IL; Pat Reynolds, editor-in-chief, Packaging World magazine, Chicago, IL; and Yolanda Simonsis, associate publisher/editor, Paper, Film & Foil Converter (PFFC) magazine, who hosted the judging session at PFFC's offices.
The Technology of the Year Competition was judged by AIMCAL technical consultants Dr. Edward D. Cohen, Coating and Laminating, and Dr. Eldridge M. Mount, Metallizing; as well as Dr. Charles A. Bishop of C.A. Bishop Consulting, Loughborough, UK; Larry Gogolin of Gogolin Assoc., Bolton, MA; and Dr. Don McClure, president of Acuity Consulting and Training, Siren, WI.
*The Vacuum Metallized or Coated Product of the Year Award honors the late Peter Rigney, former publisher of PFFC, who died in 1997 and was a long-time champion of AIMCAL and the competition.