Published: October 01, 2010, By Edited by Claudia Hine, Managing Editor
When it was time to add capacity to help Selig Sealing Products deliver the newest technology and best practices for its clients, the company chose to continue a partnership they've maintained for more than 20 years. It selected Faustel to build a high-tech printing, coating, and laminating line for its unique cap-sealing laminations. "We rely on Faustel's knowledge of laminations to help us solve problems," says plant manager J. Brad Gulliford.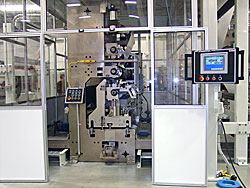 Selig shared its wish list for a coating and solvent laminating line with Faustel. After much collaboration, the team came up with many advanced designs and the perfect solution for its needs: turret unwinds with automatic splicers; flexographic printing module; gravure cartridge coating station; flotation dryer [supplied by Advanced Systems Inc. (ASI)]; dry-bond laminator; and turret rewind with the patented PerfectStart (no-foldback)automatic transfer system.
Capacity & Speed More Than Doubles…Quietly
Since operating the new equipment and splicing technology, Selig has more than doubled its capacity while reducing costs. Selig's laminations require multiple passes through the line, and the new equipment allows extremely high-speed splices with minimal scrap.
One unanticipated side benefit turned out to be the quiet nature of the machine when running, in keeping with the company's desire to provide a better working environment. "In fact, you can barely hear the machine in operation," says Gulliford.
Since materials are a significant part of total manufacturing costs, the real payoff is the lower waste associated with the newer technology. All of Selig's products contain expensive aluminum foil. Not only can the new machine process the foil with less waste, it can handle a thinner grade of foil than the older equipment.
Selig now has the ability to produce thinner cap liner constructions at a tremendous cost savings for its customers. The new line can run foil as thin as one-half of the industry standard, giving Selig a unique advantage in the market. Specifically contributing to this new capability are Faustel's PerfectStart winder auto-splice technology, the elimination of idler rolls in the drying oven, controlled cooling of the sensitive foils after drying, and the improved tension control made possible by the state-of-the art drive and control system on the machine.
Selig achieved all its project goals through a collaborative effort with Faustel. "We wanted our operators to be involved in the process from the beginning," says Harry Fosdick, maintenance manager. "Faustel was very willing to consider our experience and practices, and our operators felt connected to the project from the beginning."
One example concerns the sticky nature of solvent-based laminating adhesives and the importance of being able to clean the coater efficiently. "Faustel followed our operators' suggestions to make that job easier. We gave them a wish list that would allow us to remove parts effortlessly and provide the room we require to do everything we need to do," states Gulliford. "And they satisfied all of our wishes," he adds. "We also brought a number of operators to Faustel's plant when the machine was ready, and they inspected and approved everything, including the handling of our foil before we took delivery."
"In another case, we knew we needed very good control over cooling our foil after lamination," adds Dave Kovach, process engineer. "To solve the problem, Faustel provided a unique progressive-cooling roll stack to prevent the foil from wrinkling."
Seamless Integration
Faustel was open to working with another dryer manufacturer that Selig wanted to use. Selig felt the less a thin foil touches an idler, the better off it would be, and ASI's flotation dryer helped the team accomplish that. "Faustel had no problem integrating the dryer into their equipment; in fact, they drove the process," touts Gulliford. "They hooked up the dryer and made sure it worked. We really had no trouble with that," he adds. "That's just one example of the integration of auxiliary equipment that Faustel handled that we didn't have to worry about."
Continue on Page 2
Better Lead Times & Higher Quality Product
One of Selig's competitive advantages has always been quick turnaround. Since adding the new Faustel equipment, Selig has been able to reduce lead times to less than two weeks. A large part of Selig's business is just-in-time stock, and some of that can be turned over in less than one week for several customers.
Another of Selig's competitive advantages is high quality product standards, including ISO 9000 and American Inst. of Baking (AIB) certifications. Selig has been in the AIB program for eight years and has maintained a superior rating during that time, operating under those restrictions. They have a strong, technically backed sales team that travels globally every day to help customers achieve their goals and deal with issues to help run materials.
Process Control & Diagnostics
The machine came with a Faustel Converting Management System (CMS) that allows Selig to create the recipes it needs and provide the reports required.
It's a helpful tool that allows operators the opportunity to set up the machine for consistent manufacturing. With Detail Process Sheet training, Selig eliminated variances in operations. With the current setup, they simply push a button, and the machine sets up according to the recipe.
Selig has multiple operators, and the consistency is always there. "If you look at their run performance, you can't tell one operator from the other," states Kovach.
"From a maintenance and troubleshooting standpoint, the enhanced, on-board diagnostics available on the CMS screen and the ability to have Faustel look directly at the control system through a modem make it easier to troubleshoot or modify something, if need be," says Fosdick.
Installation Planning
Several aspects of the installation were very important to Selig. Aesthetically, they wanted a showpiece installation that would be above and beyond the expectation of even their pharmaceutical customers. This included the machine itself, the new building addition that houses it (all white for cleanliness), and the on-site wiring, piping, and sheet metal work.
Thanks to careful planning, all electrical panels were connected to the machine through underground conduits. This significantly enhances the appearance of the machine.
Meeting Customer Demand, Keeping Costs Low
The demand for Selig products has increased continuously. "This line has given us the capacity to be ahead of the game," states Gulliford. "We have a history for what customers will bring in each month in laminations, and our customer service group is really in tune with customer demands. Our scheduler and customer service crew do a great job communicating with customers when they need to order something that's just about out of stock," he adds.
Lamination is not a one-pass process; it's a multiple-pass process. Often, a film and foil are put together, and then run back through the machine for the addition of another coating or lamination. Even with all the familiarity that Selig's customer service group has, their increased global presence means that they occasionally receive surprise orders, which are now easier to fulfill. "With the new line, if someone places a large order for shipment overseas, we can operate in a two- to three-week window and put everything on a boat much more inexpensively," states Gulliford.
The new line allows Selig to have less downtime, more flexibility, and better quality lamination, all adding up to a lower total cost of ownership, an advantage they can pass along to their clients. "At the end of the day, we're the best because we're the most cost-effective and reliable," states Gulliford.
Growth Through Acquisition
Selig Sealing Products Inc., a div. of Behrman Capital, is said the largest manufacturer of tamper-evident cap/closure lining material in the world. In 1972, Selig was formed as an independent company, wholly focused on sealing technologies. Its parent company, formed in 1889 by John S. Giles, manufactured glass food jars.
In 2008, Selig acquired Unipac, another sealing company, with facilities in Canada and the UK. Selig's international growth was significantly enhanced by this acquisition. This, along with organic growth, led to the need for increased manufacturing capacity at its Forrest, IL, site.
Selig has a long history of working with Faustel. With some lines still running since the early 1980s, Faustel has a proven track record. However, Selig's new owners insisted that other quotes be evaluated, as a competitive cost would be important in the decision-making process. Ultimately, plant manager J. Brad Gulliford, maintenance manager Harry Fosdick, and process engineer Dave Kovach made the decision. "Faustel's representatives know their way around the floor and visit regularly to make sure everything is okay." says Gulliford.
Converter Info
Selig Sealing Products Inc. | 342 E. Wabash St., Forrest, IL 61741 | 815-657-8233 | www.seligsealing.com
Supplier Info