Published: October 01, 2008, By By Edward Boyle, Contributing Editor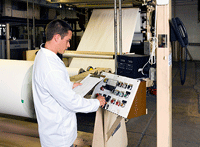 Although Jessup Mfg. Co. defines itself as a global manufacturer and supplier of pressure-sensitive films that improve safety and productivity, Rob Jessup, third-generation president of the family-run company, says what the 52-year-old firm really offers the converting industry are "total solutions." In the markets Jessup serves, he says, "We are the only vertically integrated domestic manufacturer that brings raw materials in at one end of the plant and sends a finished product out the other end. We're the only guys that go from polymer, pigment, and grit all the way through to the finished product. It's a total solution in one phone call."
Jessup says the company can do this because of its ability to custom-compound solutions, utilize solvent technology, coat a wide variety of dry coat weights, and cost effectively process both small and large run sizes while providing just-in-time inventory techniques to its customer base. "We become a virtual extension of our customer's manufacturing process by using our team of engineers, project managers, state-of-the-art coating equipment, and modern lab facilities. This helps us control quality, improve logistics, and save our customers time in getting a finished product."
The company focuses on three primary product areas: Safety Track nonslip safety solutions; Glo Brite photoluminescent evacuation solutions; and custom coating and converting of a variety of flexible substrates serving both the OEM and maintenance repair and operations (MRO) markets. It does so by utilizing an extensive array of equipment at three US facilities.
Jessup's 85,000-sq-ft McHenry, IL, facility has 55 employees. It operates two 12-in., four-color Allied rotary flexo/screen presses; four 24×24-in. Preco die-cutters; three 60-in. Dusenbery slitters; three Lever single knife slitters; seven Shanks (now Catbridge Machinery) slitters; and one 7-in., four-color Mark Andy press that is used almost exclusively for die-cutting.
Jessup's 75,000-sq-ft Custom Coating Solutions Div. is located in Lake Bluff, IL. It has 30 employees and operates four 60-in. Faustel coaters that feature state-of-the-art three-zone drying ovens to dry a wide range of materials effectively, especially thicker coatings, says Jessup. Coating methods include knife over roll, Mayer rod, and saturation coating.
The Water-based Coating Div., located in Jacksonville, FL, has 12 employees and a custom-designed, high-speed, water-based coater. The company now exports to 33 countries worldwide and operates a sales and distribution center, Jessup Europe, out of Gent, Belgium.
Jessup also maintains a variety of coatings, including acrylic and rubber p-s adhesive, top coatings, and reactivated low- and high-temperature heat/solvent. Substrates range from polyester, polyethylene, and polyvinyl chloride (PVC) films, to foils, textiles, and other exotic materials.
"It's been our vision from the very beginning to leverage our vertical integration," adds Jessup. "It's the people, the supply base, the equipment, and really focusing on how we can control the process so we can assure quality and deliver value-added to our customers."
Specialty Materials, Small Volumes
Alan M. Carlson, VP marketing support/business development, says larger substrate suppliers typically sell standard products in bulk to their customers, which works well for the vast majority of end-users. Yet, there always will be a demand among converters of all sizes for smaller volume specialty materials, and that's the niche that Jessup aims to fill.
"We can develop the right combination of substrates and adhesives and then take it all the way through our slitting and die-cutting process, utilize our packaging department to assemble in a kit with three other parts, bar code, and then send from our integrated warehouse," explains Jessup. "This really benefits the OEM, who has a clear line-of-sight all the way back to the adhesive and the substrate."
Plus, adds Jessup, "our total solution approach goes well beyond the product and includes our knowledge of international codes and standards coupled with our market expertise as we help position our products through distribution."
In each area Jessup provides new product solutions by drawing on its core capabilities in adhesive coating and converting, combined with its raw material expertise. The company also relies on a strong network of suppliers to help solve problems and enhance Jessup's capabilities. For example, while Jessup has a vast library of adhesive solutions, it can use the resources of Henkel, a worldwide supplier of adhesives technology, to help solve particular problems.
Even a relatively standard product, such as Jessup's line of nonslip grip tapes, can receive a custom touch. Available in a variety of grades and colors, including photoluminescent safety marking, the product typically is sold to OEMs or MRO markets in standard rolls or several precut shapes. However, Jessup's extensive die-cutting capabilities allow the company to provide a variety of custom solutions to manufacturers.
"All of our premier nonslip safety tapes can be sized and cut to meet a specific requirement," says Carlson, "whether it's individual pieces, kiss-cut parts on a roll, or parts back-slit for easy liner removal."
He adds that Jessup then can package and ship the materials according to the customers' requirements. This may include packaging materials with bar codes to track inventory, polybagging supplies for easy handling, or providing assembly kits. Then the products often are drop-shipped to different locations or delivered on a specific schedule to accommodate production requirements.
Recovering Heat and VOCs
As one of the leaders in using solvent-based adhesives, Jessup also has made significant investments in the pollution control equipment needed for these specialized processes. Jessup uses a Catalytic Products Intl. (CPI) Quadrant SR thermal oxidizer, which treats volatile organic compounds (VOCs) and other air pollutants, removing the harmful air pollutants with oxygen and heat. In this environment the VOCs are converted to CO2, water vapor, and usable heat. The process captures 100% of the emissions and incinerates 99.9% of the pollutants.
Another benefit of the system is heat recovery to further lower operational costs. The recovered heat is returned to the dryers on the coating lines to reduce the use of gas burners.
"Our commitment to operational excellence drives our business decisions every day," explains Jessup. "We have the experience, discipline, and passion to be the total solution for all of our customers' nonslip, photoluminescent, and custom coating/converting requirements."
Contributing editor Edward Boyle, based in Reading, PA, has covered the converting industry for more than 24 years. Contact him at EJB Communications; 610-670-4680; This email address is being protected from spambots. You need JavaScript enabled to view it..
A Safe Path
Capitalizing on new market opportunities is a Jessup Mfg. trait. A prime example is its Glo Brite photoluminescent directional system for evacuation during sudden blackout or smoke-laden conditions. Using the latest photoluminescent technology, the Glo Brite film absorbs and stores normal ambient light. In the event of a sudden power outage, the stored energy is immediately visible, enabling the Glo Brite Safety Guidance System to provide a safe illuminated path through dark stairwells, hallways, and rooms.
Carlson says the use of this technology received a major boost in the wake of the 9/11 tragedy when New York building codes were changed to require photoluminescent signage in all high rise buildings 75 ft tall or taller. Other municipalities are considering similar building codes. Jessup was able to use its knowledge of pigments and coating technology to meet the need for photoluminescent materials in a variety of formats, from exit signs and egress strips to nonslip tapes for marking stairways and ramps.
Jessup's 2006 acquisition of General Vy-Coat's polyvinyl chloride (PVC) photoluminescent manufacturing technology and assets added another choice for customers by providing a cast photoluminescent PVC film, in addition to polyester. Ongoing research and development efforts reportedly have made Jessup the only photoluminescent exit sign manufacturer to be listed by Underwriters Laboratories with signs meeting requirements for fluorescent, metal halide, and mercury vapor light sources.
Converter Info
Jessup Mfg. Co. | 2815 W. Route 120 | McHenry, IL 60051 | 815-385-6650 | www.jessupmfg.com
Supplier info