Published: April 22, 2021

By Gary Bolton, Product Marketing Manager at Markem-Imaje
Codes on products, such as lot numbers and expiry dates, enable safe usage and traceability. If codes are missing or illegible, the ability to track products through the supply chain disappears. This can lead to costly shipment rejections or fines from retailers and wholesalers.
Additionally, consumers' perceptions of brands can be harmed by poorly coded products. A smudged code detracts from the carefully crafted look and feel of the package on which it appears. Or, more seriously, an unreadable expiry date can potentially lead to illness.
Tough conditions
Whether you use continuous inkjet (CIJ), thermal transfer overprinting (TTO) or thermal inkjet (TIJ) technologies, ensuring codes will not smear or disappear in hot factories, or rub off in transit, can be difficult on flexible film and foils. Extreme temperatures, oils and solvents interfere with code adhesion.
This is particularly the case in routinely hot regions, especially if air conditioning in factories and refrigerated trucks for distribution are not regularly used or reliably available.
Some industries, such as food and pharmaceuticals, are also particularly challenging. For example, oils inherent to nuts, chips and popcorn production can form a barrier between the package material and the code being applied by ribbon transfer or ink. Chemical solvents, such as those used in antibacterial wipe manufacturing, are similarly problematic as they could dissolve the code.
There are several solutions.
Lasers
Lasers, set up properly, produce excellent, permanent codes, 100 percent of the time. Generally speaking, in flexible film, a carbon dioxide laser (CO2) is used for dark surfaces as its principle is to remove the first layer of color on the product, revealing a second layer. A fiber laser is often needed for light-colored film as its principle is based on a thermochemical effect where nothing is removed; instead, there is a chemical modification of the surface creating a contrast code.
However, lasers have a greater initial investment cost than other technologies − typically twice that of TTO, for example. That said, with its low running costs, a laser's overall cost over five years is lower. Additionally, picking a good quality laser will result in minimal running costs – only filter replacement two to three times a year – and no downtime. It is also worth noting that lasers require safety precautions, such as guarding tunnels and extraction units, to protect workers from laser beam radiation and fumes.
Another important consideration is the fact that laser is not suitable for all types of materials. It requires a strong underlying surface and a top layer responsive to the laser beam. In most cases, it is not possible to use a CO2 laser on polyethylene film.
Inkjet coders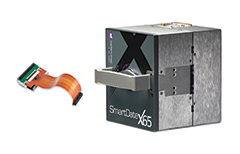 TIJ coding also has material limitations e.g., its use on non-porous film is challenging under normal conditions, let alone the ones under consideration here. Also, assuming suitable consumables can be identified which will provide sufficient adherence, TIJ tends to be expensive at high production levels. High volumes result in frequent cartridge changes which, over time, may lead to a less than optimum total cost of ownership (TCO) compared to other technologies, despite TIJ's low upfront capital costs.
CIJ is much more forgiving than laser or TIJ in terms of material: it can code virtually anything, pre- and post-product filling. It also achieves an excellent return on investment compared to laser, for example, given CIJ's low capital cost, versatility, and ability to code at all available speeds. This is particularly true if good quality equipment is chosen to ensure maintenance costs are low. However, CIJ delivers a lower print quality, in terms of resolution, than other options. And, as with TIJ, manufacturers must be aware that challenging applications like those discussed here, will require high adhesion consumables. It is not unheard of for CIJ or TIJ-coded products to appear marked when they come off the line, only for the content to fade over time or be easily rubbed off in the marketplace. The ink, once again, is key to achieving long-term, durable codes. Ink solutions exist that can and will ensure codes do not easily rub off, but they may be more expensive than the standard ink offering. Achieving a durable code with CIJ typically requires the use of resistant solvents.
Thermal transfer coding
Of all the digital coding technologies available for flexible film, assuming you are printing on a flat, unfilled surface, TTO is the most popular option given its low capital and operating costs. It is also known for providing a better print quality than CIJ and TIJ for a wide range of film types with no smell, mess or drying time. It is also able to print complex information, such as QR codes.
TTO does, however, operate at lower speeds than the three non-contact technologies described above, with the precise speeds achievable depending on a range of factors, e.g. expected production or shipping conditions. To achieve a crisp, durable code in the face of high heat, oil and solvents, many manufacturers turn to high resin thermal transfer ribbons (TTRs) which are proven to deliver the adhesion and quality required. High resin TTO code durability is second only to that of laser.
However, using high resin TTRs have historically limited printing speeds to 300-400 mm/s (0.98 - 1.31 ft/s), approximately half of what would be commonly used with other TTRs, adversely affecting overall throughput. Another potential disadvantage has been that the high energy level required for printing with resin, as compared to other grades of thermal transfer ribbons, reduces the life of a printhead. This has often led to increased maintenance costs, particularly when using suppliers who do not offer printhead warranties as standard with their offering.
New in 2021 is an advanced printhead design capable of printing crisp, high resin codes at up to 600 mm/s (2 ft/s), and with a printhead warranty of 40 kilometers (25 miles) or six months. Production throughput no longer needs to be sacrificed in order to ensure high quality, durable and cost-effective TTO codes on flexible film.
About the Author
Gary Bolton is the product marketing manager at Markem-Imaje responsible for the thermal transfer overprinting product range. He has been with the company since 2011, and in the coding and marking industry for over 20 years.