Published: October 05, 2017
KOLDING, DENMARK | TRESU reports that The Alexir Partnership, the Edenbridge, UK-based supplier of folding carton packaging, is helping niche and premium food brands reduce stocks and succeed internationally with targeted, diversified product offerings in short runs, as a result of its Xerox–TRESU digital printing and coating line.
Alexir says it became the first major supplier in the UK with an in-line solution for digitally printed folding cartons when it installed the four-color Xerox iGen 4 sheet-fed digital printer with a TRESU Pinta coater integrated in-line in 2015. Complementing an existing offset workflow, the integrated, single-pass digital printing/coating line is capable of up to 110 sheets/min and printing cartons to 610 µm thick, enabling printing on-demand with low origination costs and low order quantities.
Alexir's digital division has become a self-sufficient unit, employing six full-time staff. Claire Summersby, marketing manager at the Alexir Partnership, says, , it is meeting the growing demand for short production runs: "Our Xerox–TRESU printing and coating line is filling a vital gap of between one and five thousand units, which we were unable to offer before. For brand owners, it provides a much faster route to market, allowing us to offer high-value services, like on-demand sample printing, personalized prints, and multiple variations of a brand. It has attracted significant business from small market players and provided start-up companies with a springboard for growth. Furthermore, we are increasingly supporting marketing departments of larger brand owners by developing promotional campaigns."
Dragonfly Tea, based in Newbury, UK, is benefiting from the cost-effectiveness and flexibility of Alexir Partnership's digital carton service for its range of specialty black, green, white, and caffeine-free tea sachets that are sold across the E.U.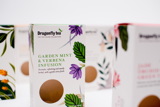 "Digital is ideal for Dragonfly Tea as we can easily amend the graphics files to accommodate the numerous flavors, regular changes to ingredients, and multiple language versions," says Summersby. "Our ability to supply exact amounts of small quantities at short notice reduces inventory levels, reducing costs as well as the risk of stock going out of date and having to be scrapped."
TRESU says the Pinta in-line flexo coater provides a layer of protection and enhances esthetic appeal. Sheets are fed to the coater automatically, from the Xerox iGen 4, immediately after the printing stage. A wide range of UV- or water-based coating media, supplied by TRESU, are available for achieving matte, gloss, full surface, spot, or fine-line effects. Fast sleeve-changes and an automatic, self-cleaning coating supply system reportedly limit job changeover times to just minutes even when switching between UV and water-based varnishes. Coated sheets are subsequently transferred to the adjacent KAMA ProFold 74 gluer/folder or Kongsberg plotter.
This email address is being protected from spambots. You need JavaScript enabled to view it.