Published: April 26, 2017, By Yolanda Simonsis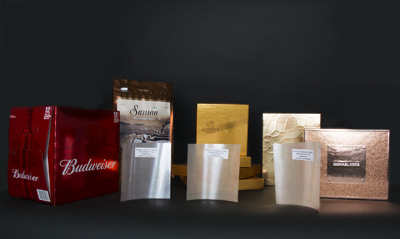 Sharklet microbe-resistant embossed vinyl overlaminate from FLEXcon wins AIMCAL's Product of the Year Award.
Q: What do millions of tiny diamond-arranged patterns have in common with sharkskin? [Warning to Reader: This is not a trick question!]
A: Microbe resistance.
Who knew? Well, FLEXcon, Spencer, MA, in concert with Sharklet Technologies, Aurora, CO, have applied this naturally occurring property to a microbe-resistant Sharklet embossed vinyl overlaminate film. It's the distinct pattern these diamonds form, simulating a shark's skin, that a allow the film to mimic the microbe-resistant properties of sharkskin.
Film Is Armor to Germs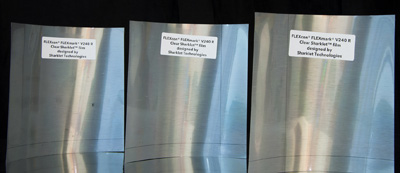 For this Sharklet innovative product, FLEXcon wins the 2017 Product of the Year Award (honoring the late Peter Rigney, former publisher of Paper, Film & Foil Converter and long-time champion of the competition who died in 1997) as part of the Assn. of Intl. Metallizers, Coaters and Laminators (AIMCAL) Web Coated Product Competition.
The microscopic texture, patented by Sharklet Technologies, is said to be precisely manufactured to a specific height, width, and depth to make it difficult for bacteria to attach and multiply on its surface. The overlaminate may be applied directly either to surfaces or printed graphics, and it can also be manufactured as the outer layer of workspace mats for immediate and moveable surface protection, resulting in the surface staying cleaner between cleanings. This environmentally friendly approach to bacterial control—without contributing to superbug development—is considered nontoxic, non-leaching, and chemical free. Research reportedly shows the micropatterns are effective against both gram-negative and -positive bacteria. Suitable applications include high-traffic areas, such as checkout counters, hospital waiting room surfaces, airport check-in desks, seatback trays, common-use areas in gyms and foodservice counters, trays, and tabletops.
The competition judges felt the Sharklet film had the potential to impact the world positively by preventing transmission of illness-causing germs that also could include packaging applications. An additional five entries were honored with Marketing or Technical awards in three categories.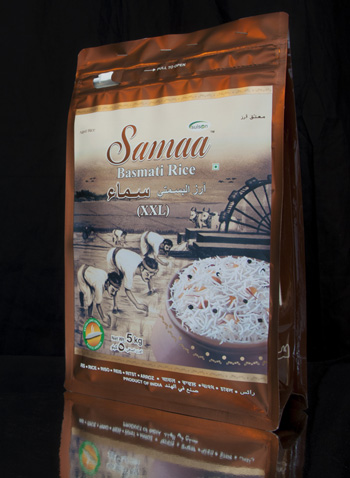 Bag Is Easy Pickup
FLEX Films (USA) Inc., Elizabethtown, KY, captured the Marketing Award in the Packaging: Food Category, for an attractive 5-kg bag of Samaa basmati rice from Sulson Overseas Pvt., New Delhi, India. Bag features include a front, back, and bottom of matte-finished biaxially oriented polypropylene/metallized polyethylene terephthalate (mPET)/clear PE with gussets of clear PET/PET/PE. A tamper-evident, three-dimensional slide-to-close zipper on the front panel protects product integrity while eliminating the need to transfer contents to a reclosable container. Placement of a convenient side-gusset handle innovatively shifts the center of gravity of the full bag for easier handling. With matte, sophisticated reverse-printed rotogravure graphics in eight or 10 colors (with toluene-free polyurethane inks), premium shelf impact is maximized. Uflex Ltd., Noida, India, parent company of Flex Films, supplied the substrates and served as metallizer and converter.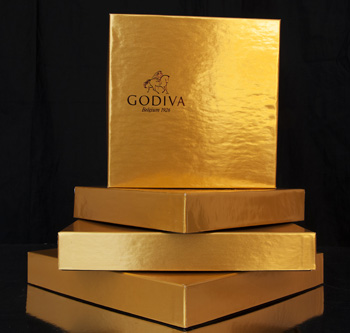 Chocolate's Gold Standard
Hazen Paper Co., Holyoke, MA, scooped up a total of three awards in this competition. The first of these was a Technical Award in the Packaging: Food Category for metallizing, coating, and laminating gift box wrap for Godiva Chocolatier, Wyomissing, PA. Designed by Godiva's Global Design Group, New York, NY, the box features Hazen's transfer-metallized Envirofoil paper that's microembossed, modified tip-coated gold, and flood coated clear. Imparting a "gold standard" appearance, the nano-thin layer of texturized aluminum and lightly applied gold tint with clear coat impart a lustrous effect as well as scuff and crack resistance.
Unlike a previous generation of box wrap, this gold coating relies on proprietary colorants that achieve the desired appearance with 98% fewer particulates and a significant reduction in energy consumption to apply and dry multiple layers of particulate-laden ink. The switch to Envirofoil paper and the proprietary gold coating reportedly cuts costs 50%. Additional savings resulted from improved drying efficiency, which more than doubled line speed, plus a basis weight reduction of 25% to 60# paper. Verso Corp. Specialty Papers, Stevens Point, WI, was substrate supplier with Burt Rigid Box, Oneonta, NY, serving as converter.
A Holiday Prohibition Toast
Earning a Marketing Award in the Packaging: Nonfood Category is Unifoil Corp., Fairfield, NJ, as converter for a holiday beverage carrier for Budweiser beer from Anheuser-Busch InBev, St. Louis, MO, The festive limited edition carrier in three sizes holds 16-oz red aluminum bottles that mark the anniversary of the repeal of Prohibition. Composition is a lamination of two weights of Carrier Kote paperboard from West Rock, Richmond, VA. Graphics are printed UV flexo with transparent red ink and Unifoil's Unilustre transfer metallizing. These selectively applied metallized stripes (providing a highly bondable surface) appear on the front, top, and rear panels, and reportedly eliminated any gluing concerns on the brewery filling lines while simultaneously reducing package cost and weight. Toray Plastics (America), North Kingstown, RI, is the metallizer.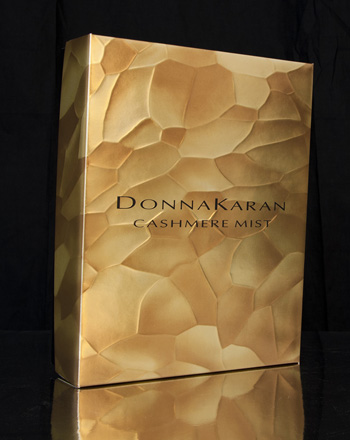 Cashmere Elegance
Sweeping the Packaging: Healthcare, Cosmetics and Toiletries Category is Hazen Paper with its second and third accolades. The Marketing Award is bestowed for a setup box for Cashmere Mist from Donna Karan, New York, NY, with Hazen serving as converter and metallizer of the Ultracure silver 48-ga metallized PET/80# C1S litho paper box wrap. McLean Packaging, Moorestown, NJ, provided the design and served as contract packager. Crackle embossing with matte ink and two-tone colors impart a soft cashmere-like appearance that invites the consumer to touch the package and encourage purchase.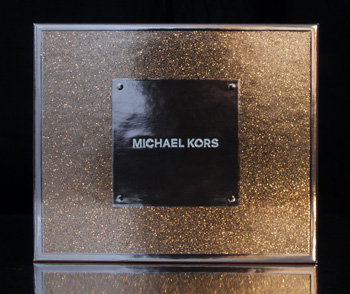 All That Glitters Is Gold
Hazen Paper's third honor was earned with a Technical Award in the Packaging: Healthcare, Cosmetics and Toiletries Category for a setup box for Rose Radiant Gold from Michael Kors Beauty, New York, NY. Once again McLean Packaging was enlisted to collaborate on this project with Hazen serving as metallizer and converter of the custom rose gold acrylic-coated 48-ga metallized PET/80# C1S litho paper box wrap. A sparkling effect results from the combination of brilliant metallized PET base material, which offers an ideal base, matched with a custom rose color hue. Crystal-like heavy embossing surrounds a dropped-out center front panel that yields an exaggerated 3D effect for premium shelf impact. While glitter-like in appearance, it doesn't flake or rub off.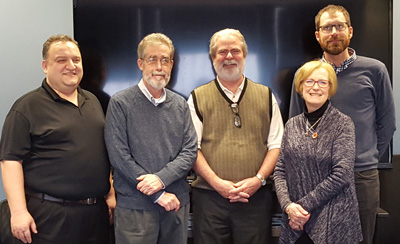 Wielding the Gavel
Judging was hosted by Yolanda Simonsis, president/editorial director for Paper, Film & Foil Converter, and Pat Reynolds, editor-in-chief of Packaging World magazine, both Chicago-based, and moderated by Mark Spaulding, editor of Converting Quarterly, Fort Mill, SC. The remaining judges included Travis Funk, head of Global Packaging Innovation R&D at Diageo, Norwalk, CT; and Vincent DiTrolio, VP of Operations at Labels & Specialty Products, St. Charles, IL.
Lamination Innovation Wins Technology of the Year Award
During a separately held evaluation session, AIMCAL bequeathed honors for a lamination technology that reportedly shortens time to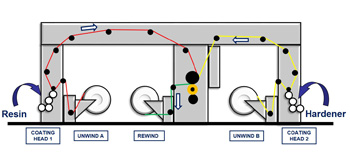 market, boosts production speeds, and cuts costs. Collaborators Dow Chemical Co., Midland, MI, and Nordmeccanica, Hauppauge, NY, jointly submitted the entry which is reportedly compatible with most printing inks and substrates and involves a two-part adhesive and application technology that, according to the judges, does not employ a Meter Mixer Dispenser—an innovative first. One judge said, "Eliminating worries about pot life is game-changing," while another judge noted, "This technology is applicable to thousands of laminators."
Here's how it works: Twin coating heads on Nordmeccanica's Duplex SL One Shot laminator apply one component of Dow's two-part Symbiex solventless adhesive on each web. When the resin-coated and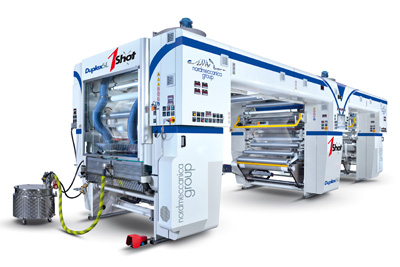 hardener-coated webs meet at the lamination nip, polymerization begins and the adhesive quickly cures. No mixer is needed, and pot life is no longer a concern. The quick curing produces a measurable bond within 30 minutes, allowing quicker quality checks and slitting within 90 minutes. Curing inventory is eliminated, and there's no need for hot or thermal-conditioned curing rooms and associated energy consumption. As a result, pouches made from the lamination—even those planned for food contact—can be filled within 24 hrs instead of waiting four to six days. What's more, final optical properties are claimed higher, and a significant reduction in adhesive misting boosts production speed up to 20% by comparison to traditional solventless lamination.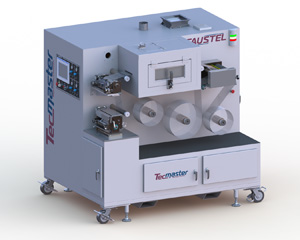 Two Entries Earn Technical Honorable Mentions
The TecMaster R&D coater/laminator from Faustel, Germantown, WI, was credited with an Honorable Mention in the Coating/Laminating Equipment/Accessories Category. The technology permits conducting experiments for coating, drying, and laminating using the same processes found on full-scale production equipment with shorter setup times while resulting in lower testing costs and faster turnaround. The unit is self-contained, pre-engineered, and modular in design, featuring a small footprint, portability, and quick installation. Coating heads are claimed easily interchangeable and in 2017 will include direct gravure (unsupported with yoke), slot die, and knife-over-roll with offset gravure and intermittent slot die. Options include ultraviolet and corona treaters.
Judges noted that with pilot-scale equipment not being readily available or impractical on a production coater, this machinery provides an easy environment for research and will reduce the time it takes to develop new products.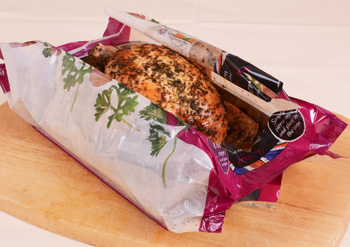 Also meriting an Honorable Mention was Mylar ovenable films by DuPont Teijin Films, Richmond, VA, in the Materials Category. introduced for the first time in 2014 to the market, these heat-sealable, thermoformable polyesters run on automated packaging machinery and enable "no-touch" cooking, a feature the judges thought made cooking much easier while allowing the movement of chicken—in a sealed environment—from market to fridge to oven without handling less hazardous in terms of raw protein contamination with other surfaces or food products.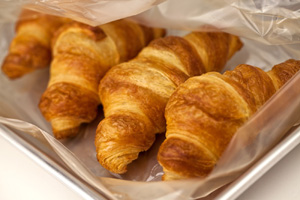 Sealed packs go from packaging line to store to home freezer or refrigerator to microwave or conventional oven for maximum convenience and minimal handling. Tailored self-venting releases steam as the product cooks or warms. The meal cooks faster while maintaining taste, texture, and moisture, requiring virtually no preparation time and easy cleanup. DuPont Teijin Films claims that products promoting "Cooking in Mylar" have generated substantial sales in Europe, and major launches are planned in North and South America.
Expert Judging Panel
Judges for the AIMCAL Technolgoy of the Year Competition include five recognized converting experts: Tom Bezigian of PLC Technologies, Cicero, NY, and PFFC expert contributor and blogger of "Tom's Poly Ploys"; Charles A. Bishop of C.A. Bishop Consulting, Loughborough, U.K.; Dr. Edward D. Cohen of Edward D. Cohen Consulting, Inc., Fountain Hills, AZ; Dr. Eldridge M. Mount of EMMOUNT Technologies, LLC, Canandaigua, NY; and Dr. David Roisum of Finishing Technologies, Inc., Neenah, WI. AIMCAL executive director Craig Sheppard moderated the judging teleconference.
For more information, contact AIMCAL.