Published: March 07, 2017
CRAWLEY WEST SUSSEX, UK | GEW will be exhibiting at this year's ICE Europe, March 21–23 in Munich, Germany, and ICE USA, April 25–27 in Orlando, FL, shows to present the latest releases of its line of specialist UV curing systems for the coating and converting industries.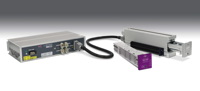 The company reports it has become a key player in the design and manufacture of UV systems for web coating lines to 2.50 m wide. A range of UV curing equipment is available for all processes, including short wave mercury arc lamps for hot melt adhesives and long wave UV LEDs for specialist coatings and laminating.
On display will be conventional mercury arc UV lamps, LED, hybrid UV systems, inert-gas UV curing, and hybrid power supplies.
The inert atmosphere curing solution can be supplied as a complete new system or as a retrofit and comes with an embedded precision oxygen level analyzer to ensure process consistency and production efficiency. The inert-gas control panel gives the operator a visual feedback and enables him/her to simply set the required ppm level, while the control automatically adjusts the inert gas flow to match the set O2 level and optimize the curing process.
The latest advanced power supplies from the company can run both LED and conventional mercury arc curing technology as changes in job requirements or ink formulations dictate. All new UV curing systems with RHINO power supply are equipped, as standard, with company's Embedded Service facility, said to allow continuous remote monitoring of the system running condition over the internet, enabling the manufacturer's service engineers to detect and correct out of tolerance parameters. Reportedly, this type of remote preventive maintenance ensures the entire UV system operates at peak performance at all times, avoiding unplanned machine stoppages and waste of resources.
This email address is being protected from spambots. You need JavaScript enabled to view it.