Published: June 24, 2016
KOLDING, DENMARK | TRESU DigitalSolutions, provider of flexo coating systems for digital printing lines, and Apex International, Hapert, The Netherland, manufacturer of precision anilox coating and ink technology for packaging and label converting, have formed a global research, development, and training partnership.
Sharing expertise and facilities, the two companies aim to improve the performance of coating technology for sheet-fed digital printing applications and to enhance customer service for users of TRESU's iCoat single and twin sheet-fed coaters.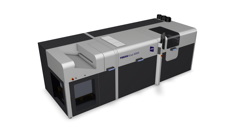 iCoat coating systems integrate with sheet-fed digital folding carton and commercial printing presses. They are used to apply full, spot, or line varnish coatings that provide added protection or esthetic qualities to the underlying graphics. As a result, company says, they provide an important link in a seamless, high-speed single-pass printing and converting line for these applications.
Apex supplies anilox and metering rolls and sleeves for label, flexible packaging, corrugated, offset, and industrial coating applications. Its patented GTT (open slalom engraving) anilox technology offers optimized ink transfer consistency for high-definition flexo and fixed palette printing situations. Apex reports its coating transfer solution has the ability to eliminate micro-foaming.
The two companies will share TRESU Group's iCoat digital coating test facilities at Kolding (Denmark), and Apex International's seminar and training center at Hapert. TRESU will take responsibility for the sale of Apex International consumable products to its coating customers.
Kim Krintel, VP, TRESU DigitalSolutions, says, "Apex International's wealth of expertise in water-based and UV-curable coating transfer technology perfectly complements the digital folding carton workflow. By combining resources, competences, and knowledge, we are well-placed to drive further process optimization and enable TRESU iCoat users to enjoy improvements in efficiency, quality, and support."
This email address is being protected from spambots. You need JavaScript enabled to view it.