Published: March 19, 2015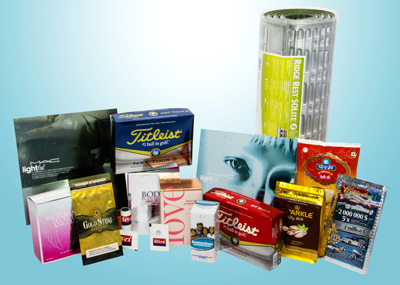 Kudos go to Hazen Paper Co., Holyoke, MA, for earning the Product of the Year award, named in honor of Peter Rigney (former publisher of Paper, Film & Foil Converter and champion of the competition) in the Assn. of Intl. Metallizers, Coaters & Laminators (AIMCAL) Vacuum Metallized or Coated Product Competition. This year AIMCAL recognized competition winners during its annual Management Meeting held at The Vinoy Renaissance on March 19–21, 2015 in St. Petersburg, FL.
Leader in the Club House
Titleist (Acushnet Co., Fairhaven, MA) golf ball sleeves and cartons are transfer-metallized by Hazen, which also assisted with package design in collaboration with Acushnet and converter Curtis Packaging, Sandy Hook, CT. The project involves three-ball sleeves and 12-ball cartons for global distribution of three Titleist brands: NXT Tour S, DT Solo and VG3. Hazen's Enhanced Envirofoil, an improved transfer coating is said to offer better scuff resistance and printability. The harder polymer in the upgraded coating reportedly contains no volatile organic compounds.
Hazen reports the Enhanced Envirofoil has a high, more than 50 dyne level and is twice as scuff resistant as other transfer-metallized papers. New Titleist graphics focus on the chrome-like brightness of the transfer-metallized surface, with brightness registering 850 on a Gardner Gloss meter (on a scale of 1 to 1,000) which is considered significantly above other transfer-metallized substrates. In addition, packaging for the VG3 balls features prominent embossing. The graphics on each Titleist package also include a holographic hot-stamp as well as covert security features.
Holographic Butter Pouches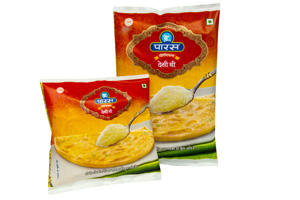 The Marketing Award in the Food Packaging Category went to Flex Films (USA) Inc., Elizabethtown, KY, for a coextruded coated film, converted by parent company, Uflex Ltd., Noida, India, for pouches of Paras Ghee (clarified butter) from VRS Foods Ltd., Ghaziabad, India. The film is surface-printed rotogravure and coated with a Cast and Cure formula that offers outstanding aesthetics that permit embellishment with optically variable (holographic) effects and proprietary designs like logos, geometric designs, and text. The coated pouch replaces one consisting of conventional gravure-printed coextruded film and is said to provide a product identity that's difficult to counterfeit. Simplifying the structure by eliminating the need for an additional film layer to protect the printing or impart holographic effects not only reduces substrate costs but also claims to enhance sustainability.
Convenient & cost effective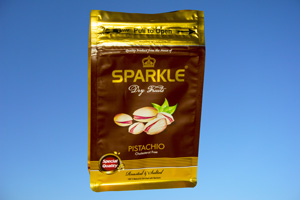 Flex Films (USA) also took home the Technical Award in the Food Packaging Category. Uflex served as converter for a reclosable biaxially oriented polyethylene terephthalate (BOPET)/metallized BOPET/low-density PE standup pouch for pistachios from Chand Parkash & Co., Delhi, India. A perforated tear strip on the Sparkle Innolock standup pouch provides access to the zipper and evidence the package has been opened. The Sparkle Innolock pouch replaces a conventional zipper-equipped standup pouch with an inner membrane that must be cut to access the product. The design not only eliminates the membrane material, but also reduces the height of the pouch.
Cigars stay fresh with less material
In the Nonfood Packaging Category, Celplast Metallized Products, Toronto, ON, Canada, captured the Marketing Award, for metallizing a zippered pouch for Gold Strike Robusto cigars from Swisher Intl., Jacksonville, FL. Other participants include converter Prairie State Impressions, Franklin Park, IL, and substrate supplier Camvac Ltd., Thetford, UK. The 48-ga PET/48-ga aluminum oxide with stripe metallizing PET/2-mil PE combines eye-catching graphics with barrier properties. According to Celplast, half of the aluminum oxide-coated PET is metallized. The stripe-metallized film is then laminated to the printed web. The lamination permits higher printing and pouching speeds, allows Prairie State to run a single web instead of two webs, and cuts material costs more than 25%.
Chewing Tobacco in a pouch
Another pouch is the preferred package for chewing tobacco, earning recognition with a Technical Award in the Nonfood Category for multiple award winner Flex Films (USA) and converter Uflex for Hira Pan Masala, Delhi, India. The single-serve pouch comprises paper/foil with a proprietary heat-seal coating on one side and an electron-beam-cured coating on the other side to provide chemical resistance, water resistance, scuff resistance, and gloss. A multilens feature in register with the print enhances brand security, combats counterfeiting, and is claimed to boost shelf impact. Several single-serving pouches are packed in an outer pouch for retail sale.
Carton, Box & Display Get Approving Nods
Hazen Paper swept the Healthcare, Cosmetics and Toiletries Packaging Category, capturing Marketing and Technical Awards, as well as the Decorative/Display Category, also cinching the Marketing and Technical Awards. Here are details for each of the four winning entries:
Hazen's first Marketing Award in Healthcare, Cosmetics and Toiletries Packaging went to a carton for Body by Victoria, a fragrance from Victoria's Secret Beauty Co., New York, NY. Hazen Paper served as metallizer and converter of the Ultracure Acrylic Silver 48-ga metallized polyester/coated-one-side 0.018 solid bleached sulfate (SBS). The high gloss surface accentuates the embossing on the carton, providing the high-end appeal department stores seek. TPC, Chattanooga, TN, also participated in the project and was responsible for package design and contract packaging.
Hazen's first Technical Award in Healthcare, Cosmetics and Toiletries Packaging recognized the company's metallizing and converting role for another Victoria's Secret fragrance, Victoria's Secret Love. This box comprises Ultracure Acrylic Silver Duplex 48-ga film laminated to both sides of 0.018 SBS. The use of metallized film on both sides of the package complements heavy embossing, which is repeated on the inside and delivers continuity of the gold color inside and out. TPC also provided design and contract packaging services for this project.
Hazen's second Marketing Award, this time in the Decorative/Display Category for the MAC Lightful skincare line from Estée Lauder Companies, New York, NY, recognizes the company for metallizing and converting the the Ultracure Acrylic Silver Reflector 2-mil metallized polyester/0.014 C2S SBS laminate. The MAC brand reportedly wanted an extremely reflective base material for the display that would introduce MAC Lightful. The mirror-like gloss of the 2-mil Reflector film was claimed to serve as the perfect backdrop for the simple graphics and accentuates product information. Sandy Alexander, Clifton, NJ, also participated in the project, serving as designer and contract packager.
Taking its second Technical Award, also in the Decorative/Display Category, Hazen served as metallizer and converter for Victoria's Secret Angel Eau de Parfum from Victoria's Secret Beauty. This package relies on a lamination of Ultracure Acrylic Silver 48-ga metallized polyester/ 0.018 C1S SBS. The metallic film reportedly is receptive to layers of printing and holographic embossing, making it easier to integrate those elements and maximize shelf impact. TPC served as package designer and contract packager.
Camp in Comfort
In the Industrial Category, the Technical Award was given to Technical Coating Intl., Inc. (TCI), Leland, NC, for its role in developing the enhanced Thermarest All Season Sleeping Pad from Cascade Designs, South Seattle, WA, which also served as converter on the project. TCI coats and overlacquers metallized PE film from Filmtech, Bean Station, TN, in preparation for lamination to PE foam. The laminate is then thermoformed. The pad's patent-pending solar technology prevents cold and moisture from getting to the body and reflects radiant heat. The coated metallized surface reportedly boosts warmth 10% and increases the efficiency of heat-trapping valleys by reflecting heat back to the body. The coating also protects the metallization from scuffing and oxidation and extends the life span of the product.
Lucky Lotto Pouch
In the Other Category, Hazen Paper continues its lucky streak by capturing its third Marketing Award, this time for the Lotto Quebec Celebration 25E Anniversaire Pouch 2014 for Loto-Québec, Montreal. Hazen Paper supplied, metallized, and converted the substrate. The pouch comprises a direct-embossed holographic film with a custom pattern of the number 25 accompanied by fireworks images. It's printed with Lotto Quebec's Celebration 25th Anniversary graphics and laminated on the non-metal side to a sealable PE. Resulting rollstock was shipped to Scientific Games Montreal where a previously printed scratch ticket with multiple opportunities to win was inserted into a pouch consisting of the holographic material and a bottom layer of clear polyester to provide visibility of the ticket inside. For the anniversary celebration, the custom 25s with fireworks holographic pouch replaced the Lotto's usual silver metallized PET pouch. According to Hazen Paper, this is the first use of custom holography to hold a scratch ticket. The value-added material allowed the lottery to raise the price from $20 per pouch to $25. Scientific Games Montreal provided design as well as contract packaging services.
Cough Syrup Carton Takes the Cure
Rounding out this year's selection of winning entries, AR Metallizing, Franklin, MA, was acknowledged with a Technical Award in the Other Category for a holographic metallized paperboard laminate for cartons of Broncochem cough syrup from Laboratorio Magnachem Internacional, Santo Domingo, Dominican Republic. AR Metallizing supplied and metallized the HoloPRISM® holographic metallized paper. The holography enhances brand identity and offers a "cure" to discourage counterfeiting for the top-selling cold medicine in the Dominican Republic. The large custom hologram features the Magnachem logo and portions of the logo along with a white motion rainbow.
Holding the gavel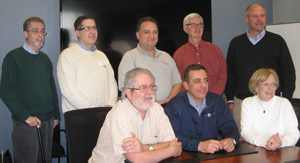 The judging panel for the 2015 Vacuum Metallized or Coated Product Competition and the Sustainability Awards Competition included: Pat Reynolds, editor-in-chief, Packaging World magazine, Chicago, IL; ; Yolanda Simonsis, president/editorial director, Paper, Film & Foil Converter, Chicago, IL; Barry Sanel, senior graphics commercialization manager, Diageo North America, Norwalk, CT; Vince DiTrolio, VP/owner of DiTrolio Flexographic Inst., Broadview, IL; Stan Kopecky, principal, SJK Packaging Assoc., Prospect Heights, IL; Jeffrey T. Weber, research principal, Mondelez International Inc., Glenview, IL. Observing competition proceedings were Mark Spaulding, editor-in-chief and associate publisher, Converting Quarterly, Fort Mill, SC, and Randy Apperson of Finzer Roller, Des Plaines, IL, who served as moderator/chairman of AIMCAL's Awards & Competition Committee. The judging session was co-hosted by Simonsis and Reynolds at Packaging World's office.
Slot Die Wins Technology Award
The Assn. of Intl. Metallizers, Coaters & Laminators also conferred the Technology of the Year Award during its Annual Management Meeting in St. Petersburg, FL, on SAM North America, Phoenix, NY, a subsidiary of Sung An Machinery Co. Ltd., Hwaseong, Korea, for its SDC-Series slot die coating system during the March 19 Awards Dinner.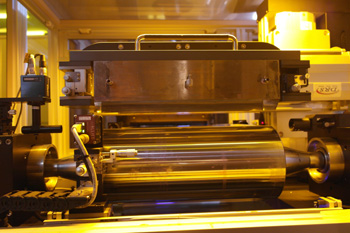 Credited among the innovative features that captured the judges attention was a ceramic ball inside the slot die cavity that ensures a thin, uniform coating profile while an integrated process monitoring system maximizes product quality and consistency. A vision-based linear motor system allows the operator to precisely set the coating gap. Other on-line cameras monitor the meniscus in real time as well as the alignment of overlay stripe patterns. Applications include functional coatings on packaging substrates and electronics, optical films, barrier films, printed electronics and fuel cells.
Of special note, according to the judges, was the integrated process monitoring and control. "Slot die technology impacts many industries." They predicted the system would extend the range of products that can be coated roll-to-roll. "It seems like a simple approach to complex idea," commented one member of the panel.
The judges also recognized three finalists in AIMCAL's 2015 Technology of the Year Competition. The Technical Excellence Award in the Coated, Laminated or Metallized Product Category was presented to Chemsultants Intl. Inc., Mentor, OH, for development of Fish Allure Scented Bait Tape. The tape strip holds 32 pressure-sensitive tabs of the patent-pending, scent-release material. The clear, oval tabs can be applied to any hard lure. When the tab-equipped lure hits the water, its hydrophilic polymer matrix releases a fish-attracting scent, which lasts 60 minutes. After use, the tab removes cleanly and a new one can be applied. The tabs provide a no-mess, longer lasting alternative to sprays or jellies. Judges liked the novelty of the water-activated scent release and the ease of use compared to existing products, which are said to be messier and not as long-lasting.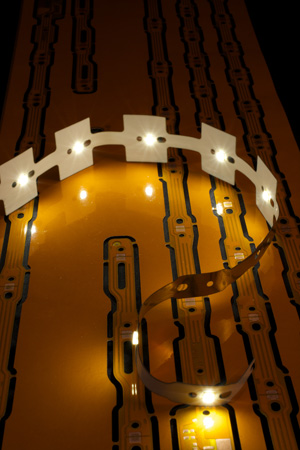 In the Material Category, Multek Flexible Circuits, Northfield, MN, received a Technical Excellence Award for its Q-Prime® flexible circuit technology. Developed for situations in which efficient heat dispersion is required, the material reportedly is especially useful in LED applications. The hybrid flexible laminate consists of copper on one side and aluminum on the other plus a heat-conductive adhesive. A protective film is laminated to the aluminum side to protect it through printed circuit processing chemistries. It also increases the emissivity of the back-side surface compared to bare aluminum, allowing heat to radiate more rapidly, which results in lower LED operating temperatures. Q-Prime flexible circuit laminate reportedly is the only thermal management interconnect on the market today that is thin and flexible enough to be processed roll-to-roll yet can hold a bend or fold in the final configuration. Adopting Q-Prime material for an LED tail light application reduced components significantly and cut weight by almost 50 percent compared to the original design.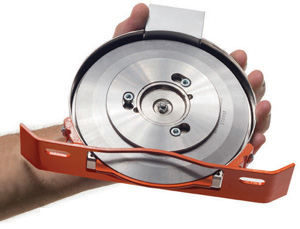 In the Coating/Laminating Equipment/Accessories Category, Maxcess Intl. Corp., Oklahoma City, OK, received a Technical Excellence Award for the Tidland 360 Degree Blade Guard. Compatible with any tangent shear slitting operations in which Tidland Performance Series Knifeholders or Tidland e-Knifeholders are used, the guard works automatically without any external energy source. When a knifeholder moves into the idle position, the upward movement engages a metal flap that lowers and covers the blade on-line or when the lower cartridge of the knifeholder is separated from the upper body of the unit. As the knifeholder moves into the run position, the downward movement provides the force to raise the flap and expose the blade. Since the guard automatically moves into place, the operator doesn't have to remember to avoid the blade area during idle times. It also eliminates the need to cover the blade before repositioning or maintaining the knifeholder. As a result, operators are fully protected during common tasks like material changes and removal of the lower cartridge for maintenance.
Judging Panel
Judges for the 2015 Technology of the Year Competition included five well-known experts in the converting field: Dr. Charles A. Bishop of C.A. Bishop Consulting, Loughborough, U.K.; Dr. Edward D. Cohen of Edward D. Cohen Consulting, Fountain Hills, AZ; Dr. John B. Fenn of Johnson Laminating and Coating, Carson, CA; Larry Gogolin of Gogolin Assoc., Bolton, MA; and Dr. Eldridge M. Mount of EMMOUNT Technologies, Canandaigua, NY. Randy Apperson of Finzer Roller, Des Plaines, IL, chairman of AIMCAL's Awards & Competition Committee, moderated the judging teleconference.
For more information regarding AIMCAL competitions, visit www.aimcal.org.