Published: March 12, 2012
The Assn. of Intl. Metallizers, Coaters & Laminators presents nine awards for its Vacuum Metallized or Coated Product Competition plus one coveted Sustainability Award.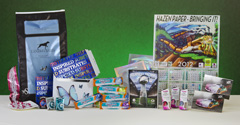 The Assn. of Intl. Metallizers, Coaters & Laminators, Fort Mill, SC, bequeathed its Peter Rigney* Product of the Year Award on March 11th to Unifoil Corp., Fairfield, NJ, for a series of smokin' hot cartons for Camel Menthol, Camel Bold and Camel Crush cigarettes from RJR Tobacco, Winston-Salem, NC. Honors took place during the association's annual meeting, held this year on March 11—14 at the Rio Mar Beach Resort in Rio Grande, Puerto Rico. The judges also named eight category winners, which received either a Marketing or Technical Award.
Smokin' Hot Carton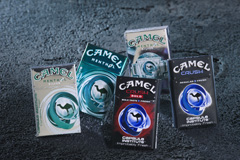 RJR Tobacco provided the carton design with Unifoil serving as converter and metallizer for the project. Unifoil uses its Unilustre technology to transfer-metallize the 12-pt solid beached sulfate (SBS) tobacco stock supplied by International Paper, Memphis, TN.
The barrel-cornered cartons are printed on a litho web press and contract-packaged by Amcor, Reidsville, NC. Compared to nonmetallized predecessors, the metallized designs are reported to attract more attention at retail. The nonlaminated SBS provides a bondable surface and excellent embossability and also die-cuts and scores precisely, all contributing to handling on high-speed cigarette packaging lines. The transfer-metallized paperboard is claimed not only to deliver acceptable performance for taste and odor, but it also is recyclable and repulpable.
The judging panel gave it high marks for both marketing and technical merit and felt the cartons also demonstrated the compatibility of metalized material with high-speed production.
Bag Is Dog's Best Friend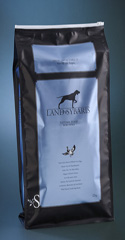 Taking a marketing award in the Food Packaging Category is Uflex Ltd., Moida, India, for its rendition of an upscale-looking preformed, stand-up bag for 12 kilograms (26.4 pounds) of Land of Sybaris dog food from Multirange Ltd., Liverpool, UK.
The five-layer, hermetically sealed bag consists of biaxially oriented polypropylene (BOPP)/metallized BOPP/low-density polyethylene laminate and features a reclosable slider zipper. A special rib construction reinforces the upper seal area, enabling the bag to withstand rigorous drop tests. The metallized center layer and reverse printing of the top layer with special pearlescent inks achieve the upscale satin appearance the customer desired. The metallized BOPP also enhances barrier properties.
Uflex supplied the substrates, metallized the BOPP and converted the preformed bag based on a design from Multirange.
Wrapper Does the Twist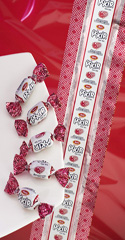 Garnering a technical award in the Food Packaging Category is Super Film Ambalaj San. Tic. A.S., Gaziantep, Turkey, for metallizing biaxially oriented polyethylene terephthalate (BOPET) PETwist film. Dali Ambalaj, Konya, Turkey, converts the material into twist wrap for confectionery and non-confectionery products.
The PETwist BT 1231 MBY film is a twistable, non-heat-sealable white pigmented material that is metallized on one side and treated. The BOPET film is said to provide an alternative to polyvinyl chloride (PVC) and cast PP. The BOPET film is claimed to deliver good gas and scent barrier, high tensile strength, gloss, stiffness, puncture resistance and twistability. It also offers higher yield, according to the entry, than PVC or cellophane twist wraps.
Acceptable for direct food contact, it's also reported to eliminate the need for the second piece of film typically used with PVC twist wrap for single pieces of candy, and it doesn't snap back as observed by one judge.
Toothpaste Carton Has Bite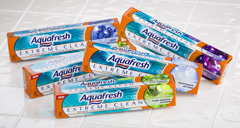 Capturing a marketing award in the Healthcare, Cosmetics and Toiletries Packaging Category, Unifoil's holographic folding carton delivers biting appeal for Aquafresh Extreme Clean Toothpaste from GlaxoSmithKline (GSK), Raleigh, NC.
GSK designed the package, which is converted by Unifoil using an 18# SBS substrate supplied by Shorewood Packaging, Carlstadt, NJ. It's laminated to an acrylic-coated, 1-mil polyester film metallized by WaveFront Technology Inc., Paramount, CA.
The metallized polyester features a custom-registered diffraction effect along with a large, three-dimensional lens to identify the Extreme Clean brand family of four products. Color coding the lens claims to deliver major impact on store shelves. Opaque and transparent ink behind the lens and Aquafresh logo further accentuate the brand identity. Shorewood also is responsible for contract packaging.
The three-dimensional, lenticular effect of the lens makes the carton look embossed, even though it's actually flat, commented one judge.
Hologram Nails It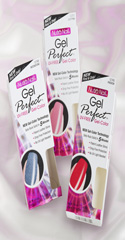 Deserving the technical award in the Healthcare, Cosmetics and Toiletries Packaging Category is Hazen Paper for an upscale carton for the retail introduction of a premium gel nail polish. The carton structure for Nutra Nail Gel Perfect Polish from CCA Industries, Inc., East Rutherford, NJ, consists of coated-one-side, 18-pt SBS, laminated in register with metallized, custom holographic, 60-ga polyester.
Hazen Paper's two-channel Ultracure acrylic-lacquered custom hologram pattern #1-6 Kleido-Burst is claimed to add depth and draws eyes to the product. Hazen Paper provided the substrate and metallizing for converter/printer Shorewood Packaging. Jamel Rankins, creative director at CCA Industries, is the designer.
With both circular and ray holographic patterns, the judges felt this package presents a unique sparkle and would look active on store shelves.
Hologram Is Collectable
Once again Hazen Paper demonstrates its best by earning a marketing award in the Decorative/Display Category for a holographic cover for a Collector's Edition Program for Super Bowl XLV.
Hazen created another custom holographic image and embossed it onto transfer film that was coated in-house. Hazen then metallized the transfer holographic material and transfer-metallized the C2S, 100# stock from NewPage, Miamisburg, OH. The final step involved sheeting and printing the 19x36-inch sheets in register with the holography. Once printed, the cover was bound to the program by Quad/Graphics, Sussex, WI.
Calendar Counts the Ways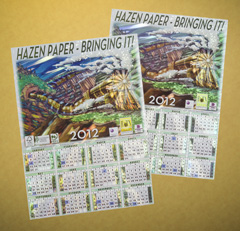 Hazen Paper counts its numerous metallizing capabilities with a wall calendar demonstration, deserving of the technical award in the Decorative/Display Category.
Produced completely in-house, C2S, 0.010 paperboard calendar features 10 transfer-laminated holographic patterns and demonstrates the potential for producing packaging for multiple stock-keeping units on a single sheet. AM Litho, Chicopee, MA, provided contract packaging services. Judges liked the variety of holograms and the registration of the various images on the calendar that demonstrated Hazen's one-stop shop capability.
It's in the Mail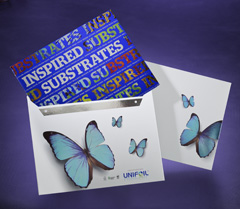 In the Other Category, Unifoil won the marketing award for designing and converting a dual-envelope combination used for overnight courier deliveries. Based on Unifoil's Unilustre transfer-metallizing technology, the inner 16-pt SBS envelope features vivid printing and holography to communicate the importance of the contents. The outer envelope, also 16-pt SBS, presents a metallic blue butterfly and environmental message. Both envelopes are printed with ultraviolet inks and a matte overprint varnish. International Paper supplied the SBS.
Other participants on the project included ITW Foils, Newburyport, MA, and Hub Folding Box, Mansfield, MA, which performed metallizing and contract packaging services, respectively.
Certified for Digital Use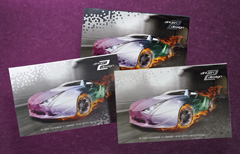 The technical award in the Other Category went to Hazen Paper for a striking Driven 2 Design postcard promotion sent to attendees at the HOW Conference 2011, organized by Color-Logic, West Chester, OH. Color-Logic provided the design, while Hazen Paper supplied the substrate, metalizing, and converting. Integrity Graphics Inc., Windsor, CT, performed contract packaging duties.
The 12-pt Foiljet Digital paperboard is coated on two sides with a proprietary coating, certified for printing on HP Indigo digital presses. Billed as the first HP Indigo-certified transfer-metallized substrate, the material also is easily recycled because metal content is extremely low and there's no film layer.
Sustainability Award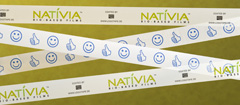 Taghleef Industries LLC, Charleston, SC, deserved the coveted Sustainability Award for its printed, pressure-sensitive tape comprised of transparent Nativia NTSS or solid white Nativia NWSS biaxially oriented polylactic acid (PLA) films. Tape converter Logo tape Gesellschaft fur Selbstklebebander Gmbh & Co. KG, Harrislee, Germany, employs a bio-based, compostable material based on Ingeo PLA resin from NatureWorks LLC, Minnetonka, MN, that relies on a proprietary coating technology It can carry printed messages and is especially suitable for sealing kraft paper bags and corrugated cases.
These PLA tapes, derived from a renewable corn source, are claimed not to pose a problem from subsequent composting or recycling while they do provide high tensile and bond strengths and perform in numerous industrial and consumer applications. Compared to PP or polyester counterparts, this PLA tape is said to offer a lower carbon footprint and is reported compatible with some paper recycling processes where the PLA dissolves into nontoxic lactide.
Holding the Gavel
Judges for the Vacuum Metallized or Coated Product Competition included included Vince DiTrolio, vice president/owner of DiTrolio Flexographic Inst., Broadview, IL; Travis Funk, manager packaging innovation, Diageo, Norwalk, CT; Jeffrey T. Weber, research principal, Kraft Foods, Glenview, IL; Stan Kopecky, principal, SJK Packaging Assoc., Prospect Heights, IL; Pat Reynolds, editor-in-chief, Packaging World magazine, Chicago, Illinois; and Yolanda Simonsis, president/editorial director, Paper, Film & Foil Converter, Chicago, IL. AIMCAL Awards Committee chair Randy Apperson, director of sales & marketing at Finzer Roller, Des Plaines, IL, moderated the judging session, which was held at Packaging World's offices.
*The Vacuum Metallized or Coated Product of the Year Award honors the late Peter Rigney, former publisher of Paper, Film and Foil Converter magazine and long-time champion of the competition, who passed away in 1997.