Published: July 01, 2010, By By Nsenga Thompson, Associate Editor
Great style isn't just for the fashion runway or interior design magazines. Winners of the 67th annual National Paperboard Packaging Competition, sponsored by the Paperboard Packaging Council (PPC), Springfield, MA, demonstrate the power of shelf appeal with functionality, innovation, and stylish details.
Winners were announced in a special awards ceremony during the PPC Outlook & Strategies Conference, held this spring in Cincinnati, OH. A total of 110 entries from 32 PPC members competed for the organization's highest honors. Of those 110 entries, 20 also competed in the Innovation category and 13 in the Eco category.
"This year's class of entries is impressive," says Ben Markens, president. "While the jury selects packages for different levels of recognition, in the end, it is the collective effort, not the tally of awards won and lost, that moves our industry forward."
Following is a look at this year's top honors. For a complete list, including excellence and boxmaker award recipients, visit www.ppcnet.org/NPPC.
Celebrating a TV Icon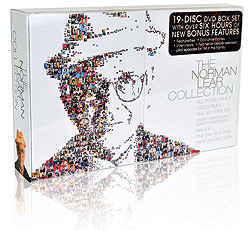 Bert-Co, Los Angeles, CA, receives both Package of the Year and Rigid Box of the Year honors for its Norman Lear DVD Collection. Lear's 1970's classics — All in the Family; Good Times; The Jeffersons; Mary Hartman, Mary Hartman; Maude; One Day at a Time; and Sanford and Son — come together in a 19-disc collector's box brimming with style and class.
The objective for the packaging was to create a high perceived value and to minimize the space to store multiple discs without the need for plastic trays, the company reports. The box set and length of the package are said to make it stand out on the retail shelf. The style and functionality reportedly make it packaging collectors are more likely to retain and reuse.
Functional & Unique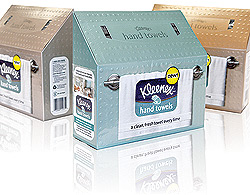 Kleenex hand towels from Great Northern Corp., Oshkosh, WI, receives this year's Innovation Award for its unique, yet practical paper towel dispenser. The package has a distinctive shape to meet towel rack and countertop functionality and includes an inside printed window to aid single-pull dispensing, a 45-deg grain direction scoring profile, custom-designed interior flaps that form and seal on automated equipment, and a tear-out perforation that provides an easy-to-open, clean window that is said to maintain holding integrity.
The box is printed with tinted UV metallic inks to create a metallized effect with optimum sheen and a high rub formula for ink and coating to prevent abrasion and scuffing on embossed elements. A custom rotary tool improved score/bend ratios to facilitate automated machine filling and provide a crisp fold line.
A Sweet Package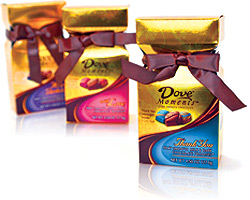 Dove Moments from Graphic Packaging Intl., Marietta, GA, receives high honors as this year's Folding Carton of the Year. The carton is designed to give an upscale look by utilizing a subtle gold background printed on a metallized polyester board lamination.
The design melts into Dove's iconic ribbon swirl logo and a color-coded base area that identifies a specific gift occasion. A cloth ribbon tied into a bow is attached around the narrow neck of the carton to reinforce the special nature of this gift while providing a unique package shape. All of these elements combine to provide the consumer with an opportunity for purchasing a "little something extra" that is economical but still is seen as special, the company reports.
Basket Carrier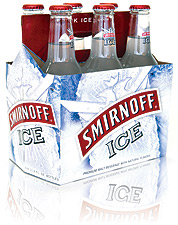 MeadWestvaco, Richmond, VA, receives this year's Eco Award for its Smirnoff Ice multi-component basket carrier. This six-pack beer carrier reportedly uses more uncoated paperboard than traditional basket carriers as well as a lower caliper combination to create a basket said to be 30% more efficient to the company's pack-out. This results in better pallet efficiencies, lowered fuel costs, and improved warehouse storage.
Gold Award Winners
All Packaging Co., Aurora, CA
Belt Bucket Kit Packaging
Clementine Natural Art Supplies
ST Media Group Media Kit
Bert-Co, Los Angeles, CA
Holiday Portfolio Gift
Sleeping Beauty 50th Anniversary
Terminator Salvation Blu-Ray
Diamond Packaging, Rochester, NY
Bliss 2009 Holiday Collection
Godiva 2009 Halloween Collection
Disc Graphics Inc., Hauppauge, NY
Flip Video Camera
Oribe Hair Care
Graphic Packaging Intl., Marietta, GA
Frito Lay Target 18 ct. Haunted House
Holiday 2009 Kleenex Brand Oval
Long John Silver's Lobster Bites
Minute Maid 10 ct Coolers Z-Flute carton
True North Holiday Clusters
Jones Packaging Specialty, London, ON, Canada
Specialty Print and Finishing Techniques Promotional Package
Menasha Packaging, Neenah, WI
Concession Tray
Shorewood Packaging, a business of Intl. Paper, New York, NY
AK 100: 25 Films by Akira Kurasawa Deluxe DVD Box Set
Bridgestone eSeries Golf Packaging
Lost Season 5: Dharma Initiative Orientation Kit
Bourne Trilogy
Twilight Saga DVD Special Package for Borders
Southern Champion Tray, Chattanooga, TN
Promotional Christmas Gift Box
Taylor Box Co., Warren, RI
Univ. of Texas Outstanding Teacher Award
The Standard Group, Jackson Heights, NY
Finlandia Flavored Vodka Family
Thoro Packaging, Corona, CA
2009 Christmas Promotional
Twilight Beauty
TPC Printing & Packaging, Chattanooga, TN
Vertical for Him