Published: June 01, 2008
Plasma Technology Agreement Reported
ROSELAND, NJ
The Bobst Group has entered an agreement with Plasmatreat GmbH, Steinhagen, Germany, to be the exclusive representative for Openair atmospheric plasma technology products for applications in the packaging folding and gluing area.
The technology is said to provide superior bonding capabilities on hard-to-bond synthetic materials and to eliminate the need for varnish cutouts on glue flaps. Reported ideal for plastic carton or box applications that use PUR adhesives, the system is said to be safe, environmentally friendly, and easy to install.
Safety First at Smurfit-Stone
CHICAGO,IL
Eight Smurfit-Stone container facilities have been recognized by the Fibre Box Assn. for outstanding safety performances in 2007. The plants are in Mishawaka, IN; Chattanooga, TN; North Tonawanda, NY; Williamsport, PA; Humboldt, TN; Adams, WI; Elkhart, IN; and Lexington, KY. Smurfit-Stone says it focuses on prevention, holds regular meetings to discuss safety issues, and identifies, reports, and analyzes near misses. The winning facilities achieved a 0.0 recordable case rate for 2007, representing the number of cases requiring medical treatment/100 full-time employees/yr, as measured by OSHA.
Corrugated Liner Makes a Winner
NORWALK, CT
M-real Consumer Packaging presented the Kemiart Forerunner 2007 Award to French champagne producer Veuve Clicquot Ponsardin (VCP) and its corrugated packaging supplier, Seyfert Packaging Champagne. The prize was for VCP's two corrugated packages, both of which use M-real's Kemiart Ultra as the surface liner. To qualify for the award, a company must develop new end-use applications for coated liners or create packaging designs that add value to branded products.
According to Fabien Gaudard, R&D manager champagne of VCP, "It is essential for VCP that the packaging used to display our rare vintage champagnes in retail stores convey all properties of the brand — luxury, quality, and innovation."
Shorewood Opens Plant In China
NEW YORK, NY
Shorewood Packaging, a business of International Paper, has opened a new folding carton manufacturing facility near Shanghai in Hunshan, Jiangsu Province, China.
The 120,000-sq-ft facility of Shorewood Packaging Kunshan features digital prepress, CTP technology, offset lithograph, in-house foil stamping, and embossing, as well as converting and finishing capabilities. It will serve both domestic China and international customers in several key market segments, including cosmetics, fragrances, personal care, confectionery, and OTC pharmaceuticals.
Sheeter Is a Real Pro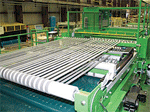 PORTES-LES-VALENCE, FRANCE
Iggesund Découpe France, which performs high quality, JIT board sheeting, has installed its second MarquipWardUnited sheeter. The SheetPro is equipped to sheet one or two rolls of board simultaneously, with diameter capacity to 2,130 mm.
Reportedly, the patented Dual Vac overlapping system allows boards with sensitive surfaces to be run at higher speeds without marking. The sheeter is capable of producing clean cuts with up to 1,000 gsm and has the ability to sharpen knives without removal from the machine.
MarquipWardUnited | www.marquipwardunited.com
PFFC-ASAP 320
Wide Web Options Offered
Machine die-cuts, creases, or punches a wide variety of paperboard or films in-line. Offered in section or module designs with variable repeat, technology can be integrated into new printing or converting presses or retrofitted into existing presses. Accommodates web widths to 80 in. at servo-drive speeds to 2,000 fpm. Allows for micrometric depth adjustments and guarantees that set parameters are maintained.
Schober USA | 531-489-7393 | www.schoberusa.com
PFFC-ASAP 321
Tote Machine for Dual Sheets
In-line dual triple-wall tote machine scores and glues two triple-wall sheets together and feeds them into a compression section where they are allowed to dry. When next set of sheets enters compression section, dry sheet proceeds to crush collar section and then to folder/gluer. Tote then enters a compression section before entering stacking area. Once desired amount of totes has been stacked, unit proceeds to compression area to ensure adhesion of glue seam. Production rate is about 750-1,000 completed dual sheets/hr.
ADI/PDM Trade Group | 912-564-2400 | www.arcdoyle.com
PFFC-ASAP 322
Design Software Updated
ArtiosCAD 7.3 is the latest version of structural design software for packaging. Suited for corrugated folding cartons, and POP displays, it is said to provide easier design features, more realistic views of packaging against backgrounds, and extensive support for new operating systems and applications. Dedicated tools are designed for structural design, product development, virtual prototyping, and manufacturing.
EskoArtwork | 937-454-1721 | www.eskoartwork.com
PFFC-ASAP 323
Glue Valves Work At High Speeds
The 500 Series glue valves feature advanced solenoid technology for short glue patterns at high machine speeds. Also feature an adjustable flow rate for precise glue volume control. Said to convert easily between noncontact and contact glue patterns. Compact size permits installation in small areas.
Valco Cincinnati | 513-874-6550 | www.valcomelton.com
PFFC-ASAP 324