Published: December 05, 2011
WESTERLY, RI | A precision sheeter with shaftless unwind from Maxson Automatic Machinery Co. allows converters and printers to sheet preprinted holographic material that includes a web steering unit, slitter rig, and cut-to-registration system.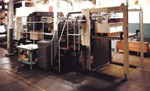 A high resolution scanner that detects registration marks embedded in the holographic web is combined with a sophisticated motion control program governing the positioning of the cross cut to maintain tolerances to within +0.006 in. (0.15 mm) of the registration mark, regardless of sheet length or line speed.
The sheeter is said to ensure exceptional product quality by continuously monitoring the accuracy of sheet registration. Sheets not maintaining accuracy specification are automatically diverted from the sheet flow to the stacker via a reject gate positioned immediately after the cutter.
Contact Brent H. Burdick for further information at 401-596-0162 or This email address is being protected from spambots. You need JavaScript enabled to view it..