Published: December 07, 2011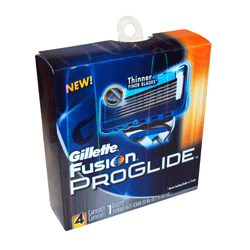 ROCHESTER, NY | Diamond Packaging earned five awards in the 68th Annual National Paperboard Packaging Competition, the industry's showcase for carton manufacturers involved in the concept, design, print, performance, and shelf appeal of paperboard packaging. The event is sponsored by the Paperboard Packaging Council.
Diamond won a Gold Award and an Eco Excellence Award for packaging created for Procter & Gamble's Gillette Fusion ProGlide Shaving System. Diamond demonstrated its Green Chic packaging model in the Fusion ProGlide packaging with the in-line application of MiraFoil metallic coating and Cast and Cure holographic effects, as well as the use of 100% renewable wind energy. Diamond says the conversion to MiraFoil from foil-laminated board (used in previous versions of Gillette packaging) resulted in reduced costs and shorter lead times.
Diamond applied MiraFoil in an initial flexo dispersion coater on its new Heidelberg Speedmaster XL 105 offset printing press prior to printing additional colors and coatings—all in a single pass. Diamond also won Gold and Eco Excellence Awards for its 2011 Centennial Calendar, decorated with the latest in package printing technologies, and introducing several new specialty coatings (DiamondEmboss, DiamondPearl, DiamondTexture, and DiamondTouch). The goal was to produce unique decorative effects through an in-line process without requiring a separate stamping or embossing pass, reducing material and energy usage.
Diamond also won an Excellence Award for Coty's McGraw Silver fragrance packaging, decorated with an overall embossed denim pattern and a custom-designed silver embossed guitar pick, which ties the brand to the iconic star.