Published: November 04, 2011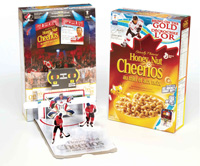 MARIETTA, GA | Graphic Packaging Intl. (GPI) was named Paperboard Packaging Council (PPC) winner of the top Paperboard Package of the Year, Folding Carton Package of the Year, and Innovation Award at its recently held annual meeting held October14 in Orlando, FL.
Out of a field of 131 entries, GPI took the grand prize for its rendition of a limited edition Cheeerios brand cereal carton (designed for General Mills by GPI) that featured a complex, interactive 3D hockey game honoring the 2010 Olympic Hockey Shoot Out.
The company also received both the Folding Carton Package of the Year and Innovation Award for the Mars Chocolate Valentine Heart Boxes. A bag of M&M's or Snickers candy was packed inside of a new take on the traditional Valentine's Day heart-shaped carton.
Eight additional GPI products earned the following awards:
• Faribault Foods 10 count private label juice carton – Gold Award
• Quaker Life Soft Bake Bars carton – Gold Award
• Snuggle Exhilarations carton – Gold Award, Innovation Excellence Award
• Sun Detergent Barrier Z-Flute carton – General Excellence , Eco Excellence Award
• Slim Jim 16-count Original Snack Sticks carton – Eco Excellence Award
• Holiday 2010 Kleenex Brand Ovals – General Excellence Award
• Kleenex Brand Cars 2, 3D cartons – General Excellence Award
• Ocean Spray Sparkling Juice four-pack carton – General Excellence Award