Published: December 12, 2013
CHARLOTTE, NC | Masterwork USA sold its new MK 420Q MINI automatic sheet inspection machine to Ingersoll Paper Box (IPB), a folding carton manufacturer headquartered in Ingersoll, ON, Canada.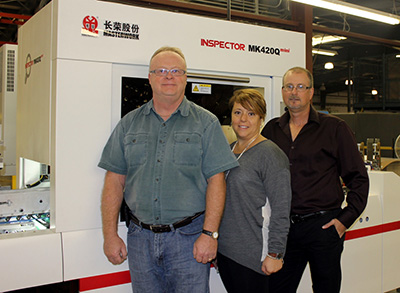 "The Masterwork MK420Q automatic sheet inspection machine gives IPB a new level of competitiveness in today's marketplace, offering our customers 100% inspection on their products," says Sarah Skinner, Ingersoll Paper Box managing director. "This equipment is the latest in high speed inspection of folding cartons ensuring better quality products. The Masterwork MK420Q inspects and electronically compares every printed carton in a specific run to a client-approved PDF proof. The high speed inspection cameras detect imperfections on all products whether it is printed, hot foiled, or embossed. The MK420Q is also fitted for detection of bar codes and security marks on the reverse side of the product. Since our installation in late September, we've been running test cartons on it and continuing our operator training. In that short amount of time, we've been very impressed with the detection system. We purposely planted some flaws on those test cartons, and the MK420Q picked out every single one of them. It's an incredible machine."
While the MK420Q can be used for all of its clients within a particular sheet size, IPB plans to primarily use the new sheet inspection system to fulfill the high quality needs of its pharmaceutical customers. Governed by strict laws and regulations, the pharmaceutical industry in particular has always been concerned with maintaining stringent product quality on its labels and packaging. Lot codes and expiration dates printed on labels plus correct product use information on packages, inserts and outserts needs to be carefully and fully inspected. IPB will be providing this extra level of security with the new Masterwork 420Q automatic sheet inspection system.
"This investment in the MK420Q is exciting on many fronts," says Jeff Brooks, IPB operations manager. "From the production team to the quality department and sales representatives, we are all very pleased to be able to offer 100 percent inspection on each and every carton in an entire run and offer yet another layer of protection to our customers. Customer satisfaction and product innovation are the cornerstones at Ingersoll Paper Box. We have a great team here at IPB and everyone works towards the same goal—providing our customers with quality products."
The MK 420 MINI Q high-speed, high precision automatic sheet inspection machine, which was not only named a Must See 'Em at PRINT 13 but also a Best of Category winner, allows a graphic arts firm to increase production capacity, reduce costs, and carry out 100% on-line inspections throughout 24 hours of uninterrupted operation. The Mini's new technology removes the cumbersome human inspection process with its inefficiency and inaccuracy and allows the 420MINI's high-speed CCD camera to detect the slightest deviations from the standard sample. The 420MINI Q has a highly-adjustable patented light source that can make meticulous and accurate adjustments according to the different printing processes, such as laser or holographic foil stamping. This light source, found only on MK machines, can filter the reflective light on the sheets to make the image clear and give the best detection results. The MK 420MINI offers a maximum running speed of 75,000 sheets/hr. It will take a maximum sheet size of 420mmx350mm and a minimum sheet size of 70mmx70mm.
This email address is being protected from spambots. You need JavaScript enabled to view it.