Published: October 01, 2013
LIER, BELGIUM | Antilope Cardboard, a division of the Antilope graphical media group, has won an ECMA Carton Award in the Beauty & Cosmetics category. There were 49 companies from 11 countries that submitted more than 100 carton concepts.
Antilope Cardboard managed to impress the panel of judges with its packaging for Mylène Cosmetics "Femme fatale" perfume. According to ECMA, the judges liked the intricate and very accurate cutting achieved using a laser cutter. The look and appeal of the carton is enhanced by the clever design and skill used in creating the very fine cut sections.
For the package, the designers benefited from the extra opportunities offered by Antilope Cardboard's brand-new Highcon Euclid digital creasing and cutting machine.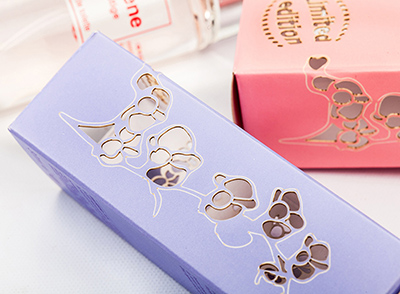 Antilope Cardboard has been designing and manufacturing cosmetic boxes for the Belgian family-run business Mylène Cosmetics for a long time now. "Mylène wanted the current Femme fatale packaging to be upgraded. For a state-of-the-art company such as Mylène, it is vital for its cosmetic products to stand out from all the rest. Hence the crucial need for 'out of the box' thinking", says Linda Corremans, Antilope Cardboard's manager.
The request was made just as Antilope was premiering the Highcon Euclid digital creasing and cutting machine. The machine is used for micro cutting, slitting, and milling, thus opening up completely new opportunities for designers. Antilope therefore immediately rolled out the new technology for the 'Femme fatale' packaging.
An important consideration is the huge time and money-saving opportunities the Highcon Euclid offers. Thanks to this machine Mylène no longer requires a regular cutting die. The Highcon Euclid deploys high-speed laser optics systems for the cutting, slitting, and milling process. The lower initial costs (no regular cutting die) allow orders for small volume jobs to be placed, thus producing less waste and ensuring a much smaller carbon footprint for the production activities.
The design teams in both companies succeeded in building a successful relationship. In the end, they opted for the micro cutting of a flower. The outcome proved the extent to which technological innovation can help create packaging with the right impact.
This email address is being protected from spambots. You need JavaScript enabled to view it.