Published: June 25, 2013
CHARLOTTE, NC | Masterwork USA, a manufacturer of folding carton and packaging equipment, has installed an MK 1000FBII high speed automatic folder/gluer to produce various kinds of boxes at Four Star Color, a Newton, NJ, packaging printer. The MK 1000FBII was installed in August 2012 to coincide with Four Star Color's move into its new 30,000-sq-ft facility in Sussex County.
"Our steady growth in the folding carton and packaging market prompted our need for a faster and more efficient gluer in the bindery department," says Chuck Cioppa, president of Four Star Color. "In almost a year that we've been utilizing the MK 1000FBII from Masterwork, we've experienced much faster turnaround and much faster makeready We've been able to double our gluing speed on the MK 1000FBII. On our former gluing equipment, we could produce 5,000 to 10,000 glued boxes per hour. Today, with our MK 1000FBII from Masterwork, we're able to produce 20,000 glued boxes per hour, and I believe we haven't even reached our potential yet with the machine. We will be able to maximize it at 30,000 to 40,000 boxes per hour. Plus, we've decreased our makeready times by 50 percent and we've been able to add a second shift."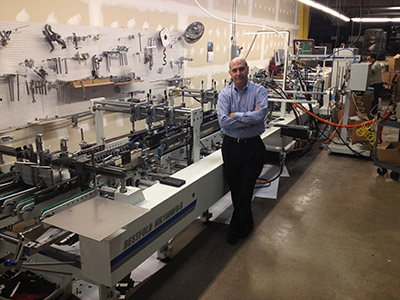 The MK 1000FBII hi-speed cold folder/gluer from Masterwork offers a maximum side seam carton size of 39-3/8 in. x 26-5/8 in. x 19-1/4 in. and a minimum side seam carton size of 3-1/2 in. x 2-3/8 in. x 1-5/8 in. The machine is able to process paperboard from 200–650 GSM as well as 0.085 to 0.60 pt including E,F,N Flute corrugated and micro corrugated. Its maximum belt speed is 400 meters/minute. Optional features include a backfold unit, four- and six-corner attachments, CD box attachment, carton alignment unit, small carton attachment, hot and cold glue systems, and bar code scanner with ejector.
Four Star's workflow incorporates its new KBA Rapida 105 41-in. six-color press, which after the printed sheet is produced, sends the sheet to the Masterwork die-cutter with automatic stripping, which he installed in 2008. After stripping, the die-cut cartons are then sent to the Masterwork hi-speed automatic folder/gluer for finishing.
"Masterwork offers top-notch equipment," says Cioppa. "The high-speed folder/gluer is a great machine. To date, we have the 40-inch gluer but in the near future, I might be looking to add a smaller model from Masterwork to handle smaller gluing jobs. Our Masterwork sales representative, Dan Highway, is a salvation to us. He is very knowledgeable and customer-oriented. He can answer any of our questions and has helped us greatly as we installed this new equipment."
Four Star Color was founded in 1964 as a photo engraver and began to offer color separation and platemaking services to support the printing industry. Since then, the firm has moved into printing and packaging production and been a premier provider of folding carton and corrugated packaging solutions. Four Star Color also provides structural design and samples to help in the assistance with its customers' packaging needs.