Published: March 27, 2013
DALLAS, TX | KBA North America is pleased to announce that sales in southern California are robust among commercial, trade, and packaging printers that are either new KBA customers that switched press manufacturers or are established loyal key customers who are adding new press models to their pressroom floors.
"We are pleased to partner with many outstanding printing firms located in southern California and provide them with KBA's high quality printing presses," says Soren Larsen, senior VP of sheetfed sales for KBA North America. "Marcus Schoen, the regional sales manager, has worked diligently with these firms to provide his knowledge and expertise and supply seamless installations."
For example, Foster Printing Co., a large-format trade printer based in Santa Ana installed a KBA Rapida 205 81-in. large format six-color UV press in October 2012. The new press, the largest in the world, joined two current KBA large format 64-in. presses—a five-color conventional and a six-color UV—at the firm's 46,000 sq ft facility.
"Sales over the past year and a half have been especially good to us," says Kris Blackburn, VP of sales at Foster Printing Co. "Due to this growth, we have been considering the purchase of a third KBA press---the Rapida 205 81-inch press. We constantly had customers asking if we could print anything larger than our 64-inch capabilities. Those customers, along with solid research into new potential customers, pushed us to finally decide on making this important purchase."
Royal Paper Box, a leading Montebello folding carton converter, made an impressive new addition to its pressroom: a second new KBA 41-in. sheetfed press. The prestigious firm caters to a globally diverse customer base including high-end cosmetics and demanding bio-medical packaging. For Royal Paper Box, which is a global leader in the packaging field, its second new KBA brings numerous advantages. These included a powerful ability to print at high speeds, top-flight automation bringing efficiency gains in makeready and running speeds, and an improved production schedule.
"We felt the addition of a second KBA press would significantly enhance and complement our pressroom," says Jim Hodges, president of Royal Paper Box.
Lithocraft Co., an Anaheim high-quality commercial sheetfed printer, expanded into new markets with the installation of its new KBA Rapida 106 41-in. eight-color UV press. Lithocraft replaced a six-color conventional sheetfed press from a different manufacturer with its new KBA.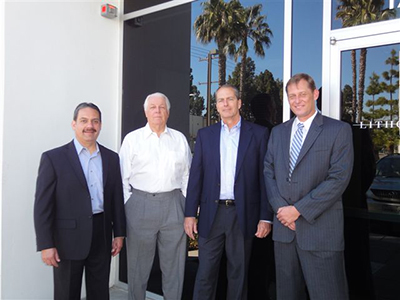 "The addition of the Rapida 106 with UV allows us to better service our existing customers and provides us with new capabilities to move into the high-end quality packaging market," says Robert Navarro, VP of operations at Lithocraft. ""The efficiencies on the Rapid 106 allow us to eliminate most of our overtime and attract new customers. Having eight-color UV capabilities gives us the tools we need to compete in the high-end packaging market as well as providing added services for our existing clients."
Superior Lithographics, a premier supplier of high quality litho labels, top sheets, and folding cartons is pleased with its fully automated KBA Rapida 162a 64-in. six-color sheetfed press with UV coating. "Our entire firm is built around giving our customers an incredibly fast response to their printing needs," explains Doug Rawson, Superior Lithographics' CEO and president. "We feel that KBA is aligned with that same mind set. We needed a tailor-made press with all the latest technological advances to rapidly produce high quality large-format work. KBA shares our vision of being super-responsive and has delivered every step of the way."
AVID Ink, a world-leading dye sublimation printer located in Corona has dramatically increased its production throughput and high quality artwork with the installation of its new KBA Rapida 162 64-in. five-color sheetfed press plus coater. "Our business depends on being able to turn around overnight the latest designs for the fashion industry," says Rob Davis, CEO and founder of AVID Ink. "By investing in the new highly automated KBA Rapida 162 64-inch sheetfed press, we're increasing our quality and productivity by 200% over our older press and reducing our make-ready by 75%."