Published: May 31, 2018
LAKE FOREST, IL | Colbert Packaging Corporation recently hosted a TICCIT ("Trees Into Cartons, Cartons Into Trees") event for elementary students in Wisconsin's Salem School District. TICCIT is a program of the Paperboard Packaging Council (PPC).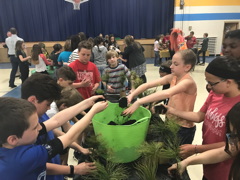 Jeff MacDougall, production manager at Colbert Packaging, led the educational outreach program, which drew participation from more than 320 students in the third, fourth, and fifth grades. Salem students learned how trees are grown and harvested for the making of paper and paperboard, and then turned into packaging materials that are recyclable and renewable.
Hands-on learning is an important part of TICCIT. MacDougall and seven others from Colbert Packaging helped the students plant saplings. Each student was given an eastern white pine sapling, along with a paperboard carton and some soil in which to plant the sapling. Students were encouraged to take their sapling home and plant both the sapling and the box, which will biodegrade over time, in their backyard.
"We all share in the responsibility of being wise stewards of our planet's natural resources," says MacDougall. "We do our part within our operations and through the types of paperboard packaging we produce. We also recognize that we have an obligation to impress upon younger generations the importance of biodegradability and sustainability, and to inspire them to do their part to protect the environment. This program enabled us to do that in a fun way, and with a lasting effect."
Colbert, a family-owned business founded in 1959, has its flagship custom folding carton operation at the Lake Forest headquarters. Flexographic-printed cartons, pressure-sensitive roll labels, and package inserts are produced in Kenosha, WI, and a folding carton, rigid setup box, and paper tray forming facility is located in Elkhart, IN.
This email address is being protected from spambots. You need JavaScript enabled to view it.