Published: October 20, 2017
Design meets cannabis industry's dual requirements of safety and branding.
The Paperboard Packaging Council (PPC), Springfield, MA, recently announced the winners of its 74th annual North American Paperboard Packaging Competition. Recognized by a panel of packaging experts, these packages represent the latest and greatest in paperboard packaging design.
Paperboard Package of the Year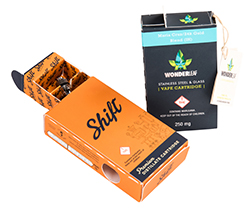 A patent-pending design that required 17 iterations, the SlideBoxCR masterfully fulfills the cannabis industry's dual requirements of safety and standout branding. The design features both an outer carton and an inner sliding tray that contains product. To unlock the tray, the consumer must firmly press a hidden flap against the inside wall. This intentionally non-intuitive locking mechanism ensures that children cannot access the product. And it truly works: in a third-party study, all 50 of the three-to-five-year-old participants were unable to access the product.
The design also allows for premium graphic treatments. Embossing, foil stamping, spot UV, PMS colors and soft touch coating may all be incorporated without limitation. In a time when many cannabis producers are leaning on premium brand identities to beat the competition, these graphic capabilities are crucial.
Folding Carton of the Year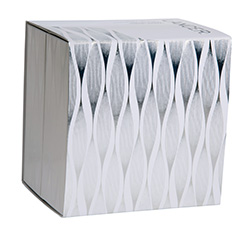 This glamorous folding carton was designed in the spirit of a beautiful shell. To underscore the value and exclusivity of its "pearl," a high-end skincare treatment, the design spared no expense when it came to embellishment. Most striking is the choice to forgo printed graphics and text for foil stamping throughout. The outer sleeve features a similarly striking foil-stamped pattern as well as a soft touch application. Attention to detail continues throughout: hidden magnets serve as a closure mechanism, and even the area underneath the lid is foil stamped and embossed. With all of these details and effects, it is clear that both package and product are uncommon treasures to admire and cherish.
Rigid Box of the Year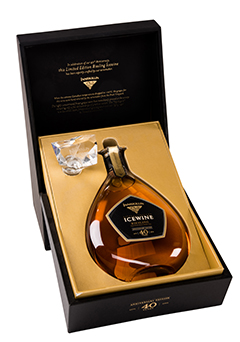 Made for the duty-free luxury category, the Inniskillin 40th Anniversary icewine required a sumptuous rigid box to engage the senses and excite the consumer. A first glance reveals the box's unique faceted lid, which was inspired by the iced crystal stopper inside. Touching the box, the consumer experiences the supple elegance of the outer wrap—a custom, latex-infused paper stretched at multiple angles over the facets of the lid. Next comes the big reveal: a unique hinge-opening acts as a fulcrum, lifting the product and presenting it to the consumer. Inside, the gold finish creates a rich glow that highlights the rare icewine and stopper.
Eco Award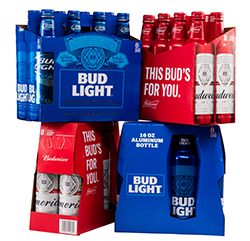 Designed to help Anheuser-Busch compete with the growing craft beer segment, these new packaging formats for six-pack aluminum beer bottles are designed with both structural interest and sustainability in mind. Cluster-Side Hero, which features a side-to-top opening as well as a "hero" window that reveals the primary packaging, yielded a 24 percent decrease in paperboard usage as compared to previous designs. BasketWrap, a basket-style carton that enables consumers to see the bottles inside, yielded a six percent decrease. The new designs also allow for increases in number of cartons per case, number of cartons per pallet, and number of pallets per truck.
Innovation Award
An innovative new packaging format for on-the-go eaters, the IntegraFlex cup combines the best attributes of a folding carton with those of flexible packaging. Delivered in a filled but semi-collapsed state, the package consists of a paperboard sleeve with an attached flexible liner that contains product. The consumer "pops" open the package by pressing the two sides until they lock into position. After opening the liner, the consumer can add liquid, microwave if necessary, and eat directly from the package. A highly versatile design that's ideal for a range of dry foods to which liquid is added, this package could have far reaching implications for the dry foods market.
Judges' Award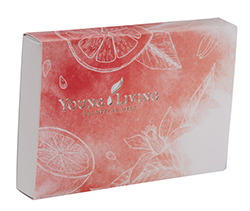 Manufactured for a three-bottle set of essential oils, this carton is a triumph in the art of precision. The outer sleeve features a laser cutout of the brand's logo that aligns precisely with an embossed version of the same logo on the inner carton. Cutting details this fine and alignment this precise are almost unheard of in the industry to date. Also notable is soft matte effect that was achieved by printing foil board with white.
Judges' Award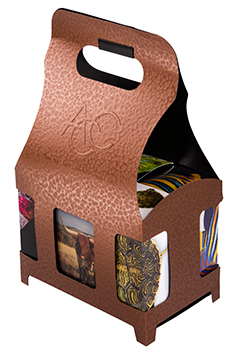 American Carton Co. created this promotional package to educate customers about all of the latest converting techniques and special graphics that can increase brand power at retail. The pack features a stunning carrier with six cartons inside, each with equally exciting tactile and visual effects. Most of these value-added effects were produced in-house and in-line, showing prospects that folding cartons are a versatile, brand-forward and affordable packaging solution.
Judges' Award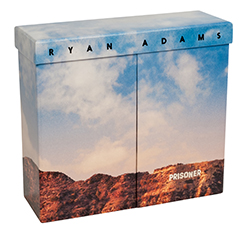 This vinyl boxset for Ryan Adam's album, Prisoner, is an instant collector's item. The box opens to create a stage, complete with sound and light features, on which fans can arrange paper cutouts of Adams and his bandmates. Additionally, the design has a hidden door that drops down to uncover a secret vinyl as well as invisible ink that is exposed by blue light to reveal a secret website that offers additional content.
For more information about PPC's North American Paperboard Packaging Competition, visit paperbox.org/cc.