Published: October 10, 2017
WESTERLY, RI | Maxson Automatic Machinery Company presents a delivery system with dual-ream discharge designed for continuous stacking of 8½x11-in.–11x17-in. (A4–A3) sheet sizes in counts of as few as 25 and as many as 1,000. The compact design includes a count controlled diverting gate that feeds one discharge stacker, while the other empties well jogged piles to an off-loading conveyor that directs the reams to a packaging system.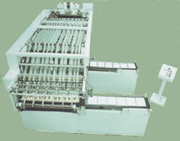 The equipment includes a reject gate, a diverting gate, static eliminating devices, two high-speed tape sections, and motorized indexing conveyors on which the sheets are stacked and then off-loaded. Sensors monitor sheet count automatically, shuttling sheet flow from one station to the other. Operator controls allow quick programming and manual override of programmed functions.
The maximum trim width is 65 in. (1,651 mm). Each discharge point can stack up to six piles across on a motorized conveyor. When the preset number of sheets is stacked, the conveyor pivots to a horizontal position and gently offloads the reams to maintain pile integrity. Once the reams clear the conveyor, it returns to the stacking position to accept the next set of incoming sheets.
This email address is being protected from spambots. You need JavaScript enabled to view it.