Published: July 19, 2017
WESTERLY, RI | Maxson Automatic Machinery Company offers select sheeters that now have Supervisory Control and Data Acquisition (SCADA) capability in addition to the facility to diagnosis and correct electrical problems from a remote location.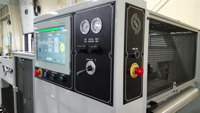 The SCADA system, when connected to the customer's local area network via an Ethernet port to the sheeter, provides real-time production information (such as run speed, production output, down time) to the company's management information system, reports or labels for pallet outputs to a customer-supplied printer or bar labeler, and the ability to schedule and recall customer orders for purposes of sheeter scheduling.
The condition of the sheeter is monitored at all times. More than 200 diagnostic, fault, and error messages that annunciate emergency stops, open safety interlocks, applicable jam detection, and status of the drives, motors, and encoders can be identified at either the sheeter or from a remote location. This diagnostic capability gives operators or Maxson's customer service the ability to quickly identify the source of a machine malfunction, provide service personnel direction in executing corrective action, allow on- or off-site programming modification, and/or detect failed electrical hardware.
This email address is being protected from spambots. You need JavaScript enabled to view it.